Like every year, the migratory birds are returning from their wintering grounds in southern Europe and Africa. Yet, how many of them eventually arrive at their destination is a gamble
More ...
NatuRegio Seminar "Conservation of migrating birds in Eastern Europe"
EuroNatur together with Green Balkans organizes the NatuRegio-seminar "Conservation of migrating birds in Eastern Europe" in Plovdiv, Bulgaria from 08 – 12 January 2009
Feed for Scavengers
As a result of the EU-Regulation 1774/2002 of how to deal with carcasses of dead farm animals such as cattle, sheep and goats, there is a substantial lack of animal carrion to feed numerous scavengers such as large carnivores and omnivores and others, providing the ecologically needed amount of animal carrion to ensure the preservation of these species. In this analysis EuroNatur together with her Spanish partners demands adjustments of the new formulation of the Regulation from the European Union.

Please read the analysis in english oder spanish (Alimentación para especies necrófagas).
One year vocational training including two stays in Germany with seminars, excursions and placements in interesting institutions. This is what the initative "NatuRegio-Trainees for Nature" offers to ten young conservationists from Romania and Bulgaria.
More ...
EuroNatur, Youth Center Livno and WWF, applaud the new designation of Livansko polje, the largest periodically flooded karst field wordwide in Bosnia and Herzegovina and South Eastern Europe, as a wetland of international importance, under the International Ramsar Convention.
More ...
Franciscan monastery and EuroNatur open a new ecology and landscape exhibition in the Museum Gorica, Livno, which is famous for the art gallery and the collection of the cultural heritage of the region.
More ...
Bird protection along the migration route from Central and Northeast Europe across the Adriatic Sea to Africa (Adriatic Flyway) is the main topic of a conference which EuroNatur and several partners are going to held in April 2009 in Ulicinj (Montenegro).
More ...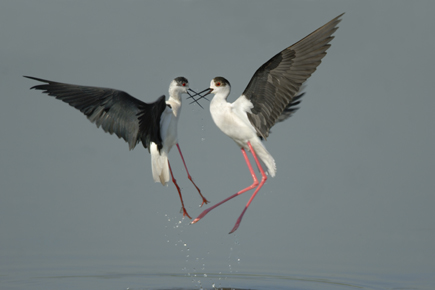 Black-winged stilts, alpine ibex and European rhinoceros beetle are the "stars" of the EuroNatur-photo competition 2008 ...
More ...
A spirit of optimism pervades EuroNatur. This internal development is now also shown to the public and the foundation is presented in a new appearance, e.g. via a new web presence or a new logo which concentrates completely on the name of the foundation. The name says it all at EuroNatur. Like hardly any other organisation, our projects focus upon nature conservation in Europe.
More ...
At the end of June after 14 days of walking the FWFF's sheep herd of over 600 sheep has arrived in Central Balkan National Park. The distance of about 200 km has created a lot of challenges to the shepherds.
More ...