Leaving a gift for nature in your Will
Your memory can live on in Europe's nature
By leaving a bequest in your Will, you can also set a course for the future. And by contributing to the preservation of Europe's natural heritage, you can ensure your memory is kept alive in a dignified way. Leaving a gift as part of your Will makes it possible for you to maintain your autonomy even after your death. It is generally recommended that you have the Will certified by a notary who will know exactly what to look out for and how to avoid later challenges.
EuroNatur earns your trust
Our activities are overseen by the Freiburg Regional Council and the German tax authorities. Additionally, we voluntarily have our annual financial statements audited by an independent auditing firm every year. EuroNatur is one of the first recipients in the field of nature conservation to be awarded the DZI seal of approval. In awarding the seal, the German Central Institute for Social Issues (DZI) certifies, among other things, that there is a transparent and economical use of funds, integrity in soliciting donations and reasonable expenditure on administration.
The state will not take a share of your legacy
As EuroNatur Foundation is exempt from inheritance and gift tax due to its non-profit status, any donated or inherited assets are used exclusively for the Foundation's purposes without any deduction for tax. This means that the money will go exactly where the person who has made the Will wishes it to go, without the involvement of the tax authorities.
We respect your wishes
If a particular EuroNatur project area or the protection of a specific species such as wolves, bears, lynx or migratory birds is especially close to your heart, we will ensure that that your gift is used for the purpose you intend. We would be happy to make suggestions in this respect.
These people have chosen to leave a gift to EuroNatur in their Will
I hope that others will act in a similar way and realise how urgent it is to make a stand for nature conservation. Nature can't lobby for itself and it is being trampled underfoot! I hope that people will come to the realisation that creation is a precious thing in itself and must be preserved in an enduring way. We need to make sure there is some money left over for this too.
For me, nature conservation is a very important and sensitive issue. Before I drafted my Will, I had in-depth discussions with Sabine Günther and Gabriel Schwaderer. At EuroNatur I am seen as human being and not just a number. That is something I have a very good feeling about.
Reliable and transparent
Click on an image to enlarge it. You will find detailed information on our transparency in our annual report.
We hold the "Erbschaftssiegel" - the Legacy Seal of Approval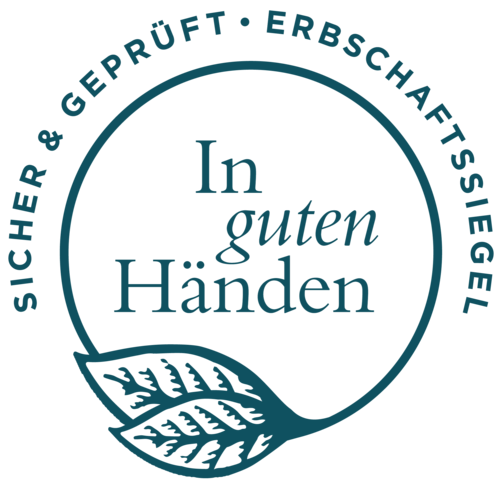 In 2020, the initiative "Mein Erbe tut Gutes" (My legacy can do good), an alliance of 23 renowned non-profit organisations, introduced an inheritance seal which is a mark of integrity and respectability in this sensitive area. EuroNatur is a holder of the seal and, like all the other organisations and foundations that are also seal-holders, is committed to upholding the following guidelines:
Ensuring freedom of choice
Care and respect in dealing with your legacy
Ensuring compliance with all legal requirements and the highest levels of transparency
You can find out more at www.erbschaftssiegel.de (available in German only).