"Ben is back in Villaviciosa." Roberto Hartasánchez, president of EuroNatur partner Fapas is delighted. Since September 14th, the young male osprey has returned from its breeding grounds in England to the Villaviciosa lagoon, situated at the coast of north Spain, to overwinter there as last year.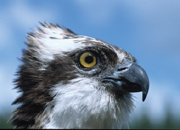 Several ospreys regularly overwinter and rest in the coastal region of northern Spain, approximately 40 kilometres northeast of Oviedo. The raptor with its long wings shall now also find a home to breed in Asturias. Supported by EuroNatur, Fapas has therefore started a new project for the re-introduction of ospreys.
For that reason, members of the Spanish nature conservation organisation have begun to build artificial nests on the high pines and eucalyptus trees, which grow at the edge of the lagoon. Fapas plans to install ten artificial aeries for the ospreys in Villaviciosa in the course of the project.