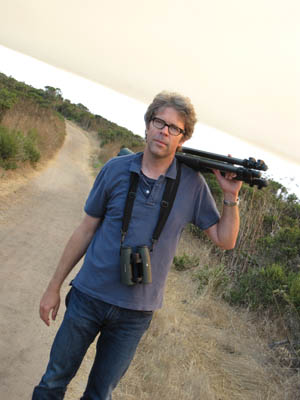 Active involvement in combatting bird hunting +++ a passionate bird-watcher, he has researched the scene of the crimes on the Adriatic coast

Press release, 2 July 2015

Radolfzell. In September the latest novel by Jonathan Franzen, the most eminent US-American author of today, will be published. What not everyone knows about the literary genius is that Jonathan Franzen is also a passionate bird-watcher and is a great champion of bird protection in Europe.

On the 14th October EuroNatur Foundation is honouring him with the EuroNatur Award 2015. In the announcement of this year's winner of the EuroNatur award, Christel Schroeder, the President of EuroNatur, honours Jonathan Franzen's contribution to conservation: "His work has significantly raised international public awareness of the acute threat to European wild birds created by legally permitted hunting, poaching and loss of habitat. Particularly worthy of mention are his many publications on bird hunting focusing on South East Europe and the Mediterranean."

Commissioned by National Geographic, Jonathan Franzen set off in March 2012 to undertake comprehensive research on bird hunting in the Balkans, among other locations. For two weeks he visited all the important resting places for migrating birds along the Eastern Adriatic from Karavasta National Park in Albania to Neretva Delta in Croatia.

EuroNatur estimates that several million migratory birds fall victim to bird hunting every year in the narrow strip along the East Adriatic coastline. Jonathan Franzen spoke to hunters, observed illegal hunting practices and explained the background of bird hunting in the Balkans. In 2013 the alarming results of this trip were published in his contribution "Last Song for Migratory Birds" in the National Geographic magazine. Here he shows impressively how bird hunting along the East Adriatic is systematically destroying the effect of intensive programmes for bird protection in the breeding areas of migrating birds.
As is well-known Jonathan Franzen is passionate about birds and bird-watching. He has watched and followed well over 1000 species in world-wide birdwatching trips. "I've done enough birdwatching in Europe to become very attached to the Old World's birds and to feel some personal responsibility for them" as the future EuroNatur Award Winner remarks.


Background information:
EuroNatur Award: Former Award Winners have been, among others, Prince Charles, Dr. Ernst Paul Dörfler, Prof. Dr. Klaus Töpfer, Luc Hoffmann and Dr. Hans Bibelriether. The EuroNatur Award is not endowed with a prize. It is awarded to honour outstanding achievements in nature conservation. The 2015 EuroNatur Award will be presented to Jonathan Franzen on 14th October at 5 p.m. on the island of Mainau, Lake Constance.
About Jonathan Franzen: probably the most eminent contemporary US American writer his novels, above all "Freedom" and "The Corrections", are famous world-wide. In September 2015 his latest novel will be published, entitled "Purity". Jonathan Franzen is a writer who tackles the central themes of contemporary life in depth and these themes include environmental pollution, the destruction of nature and loss of species diversity. On his way to the EuroNatur Award and following it he will be giving readings in Germany and in a number of European cities presenting his latest work.


Further information: EuroNatur, Konstanzer Straße 22, 78315 Radolfzell, Germany, phone: +49 (0)7732 - 92 72 10, fax: +49 (0)7732 - 92 72 22, info@euronatur.org, www.euronatur.org, Press contact: Katharina Grund, contact person: Gabriel Schwaderer