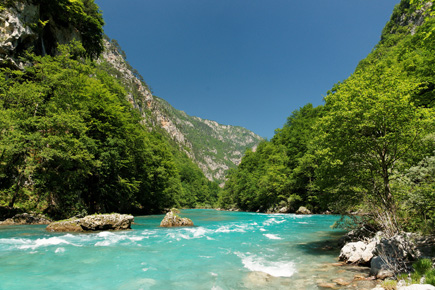 This week Balkan rivers gained valuable attention. EuroNatur and RiverWatch organised a meeting of national and international stakeholders in Brussels as part of the "Save the Blue Heart of Europe" campaign. The list of participants included representatives of NGOs, energy suppliers, financial institutions, the European Parliament and the EU Commission. The conference was hosted by Vice President of the European Parliament Ulrike Lunacek (The Greens/European Free Alliance).

The Balkan Peninsula is threatened by a veritable dam tsunami under the guise of "green energy production". This would cause the destruction of unique river landscapes that deserve special protection according to EU criteria. Supported by international banks and companies, part of them from EU Member States, destruction already started.

Ulrike Lunacek, Vice President of the European Parliament and head of delegation of the Austrian Greens in the EP, expresses her concern at dam projects along the Vjosa, the last free-flowing river of Europe.

"While EU countries are challenged to comply with the EU's Water Framework Directive, its criteria are currently met or even exceeded in the Western Balkans. This lead and advantage of Western Balkan countries, particularly Albania, must not be carelessly abandoned for a power plant boom."

EuroNatur and RiverWatch are urgently calling for a master plan defining "no-go areas" for new hydropower projects. These are rivers and stretches of rivers that for ecological, cultural and social reasons must be save from any construction works. Hydropower plants would thus be restricted to carefully selected river stretches.

"The event aimed at raising awareness both for the beauty of Balkan rivers and the threats they are facing due to the hydropower boom. At the same time we wanted to initiate stakeholder dialogue, which was visibly successful. In particular the EU Commission and the European Parliament want to put more emphasis on making sure that renewable energy development on the Balkans will not be to the detriment of rivers", says Theresa Schiller, coordinator of the campaign "Save the Blue Heart of Europe" at EuroNatur.

More about the "Save the Blue Heart of Europe" campaign