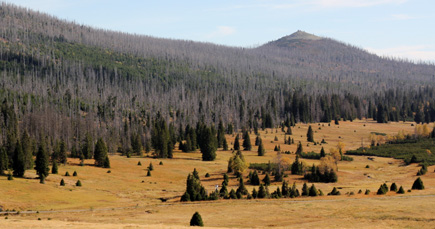 Czech conservationists win EuroNatur Award 2014
Press release 8 October 2014


Radolfzell. In November it will be 25 years that the Iron Curtain fell. Right to this anniversary, today the Czech environmental and nature protection organisation Hnutí Duha (Friends of the Earth Czech Republic) received the Award for Environmental Excellence 2014 of the EuroNatur Foundation at Mainau, an island in Lake Constance. Hnutí Duha is for two decades working for the protection of National Park Šumava in an exemplary manner. Šumava/Bohemian Forest is a low mountain range stretching over about 200 kilometres along the borders of the Czech Republic, Germany, and Austria. It is part of the largest European symbol of peace: the "European Green Belt".

Although Šumava is protected on paper as a national park since 1991, its natural treasures are endangered. "This year's EuroNatur Award winner is also a symbol of a self-confident civil society. The award is honouring courageous action against authoritarian arbitrariness – and for the protection of nature", says EuroNatur president Christel Schroeder. To transform the former Iron Curtain into a lifeline is the great vision of the nature conservation initiative "European Green Belt". Hnutí Duha is playing a major role in materializing this idea and in strengthening the Green Belt as a European symbol of peace. "Despite all difficulties the Czech conservationists don't give in. Thus, they are a model of a bottom-up Europe", says Christel Schroeder.
"We think that protecting Šumava jointly on both the Czech and the German sides is not only essential for the conservation of one of the gems of Europe's nature, but also for peace and cooperation in Europe", say the laureates. Ji?í Koželouh (head of programmes) and Jaromír Bláha (head of activities to protect Šumava National Park) represented Hnutí Duha in receiving the award today on Mainau Island.
One of the guests was Dr. Robin Böhnisch, chairman of the Environment Committee of the Czech Parliament's Chamber of Deputies. His presence demonstrates that the national and international importance of Šumava National Park is being increasingly recognized also on the political level. This is an invaluable signal in the light of recent developments: There is a legislative
initiative being discussed that would reduce the idea of a national park to absurdity. Among other things, logging and hunting would be constantly permitted on the greater part of national park areas, and free rein would be given to construction. The initiative will be up for parliamentary debate presumably in October. Hnutí Duha is advocating a national park law that clearly defines the national park's function, and that is in line with scientific knowledge and the idea of protecting nature.

Further information:

press release of 10 July 2014

press release of 25 September 2014


EuroNatur Award: Among the laureates of previous years are Dr. Ernst Paul Dörfler, Prince Charles, and Mikhail Gorbachev. The EuroNatur Award is non-monetary. It honours an outstanding commitment in the field of nature conservation. EuroNatur Award 2014 was given on 8 October 2014 at 5 p.m. to Hnutí Duha on Mainau Island.

More about the "European Green Belt" initiative

Šumava: During the Cold War the Iron Curtain cut right through what is now Šumava National Park. In this former no-go area nature was left to develop practically undisturbed for decades. Together with the adjoining Bavarian Forest National Park it constitutes one of the largest wilderness areas of Central Europe.

Hnutí Duha ("rainbow movement", Friends of the Earth Czech Republic) is one of the leading nature conservation NGOs in the Czech Republic. Further main topics of the organisation's work are climate protection, renewable energies, and environmental policy.

For further information and interviews, please contact: EuroNatur, Konstanzer Straße 22, 78315 Radolfzell, Tel.: +49/7732-9272-10; Fax: +49/7732 - 92 72 22, E-Mail: katharina.grund@euronatur.org, press contact: Katharina Grund; contact person: Gabriel Schwaderer