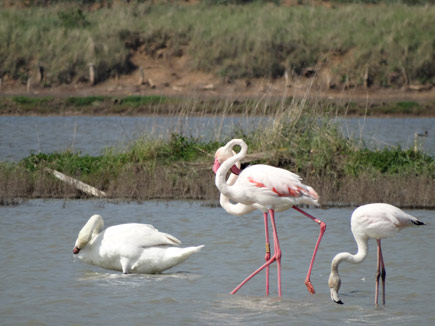 The Ulcinj Salt Works in Montenegro has produced salt during a period of over 80 years. However three years ago the salt works ceased production and as a result of that, one of the most important resting grounds for migrant birds in Europe may stop to exist. The short film "The Endangered Treasure of Ulcinj", the production of which was supported by EuroNatur, appeals with impressive pictures for the protection of this unique natural and cultural heritage site.
There is a lot of evidence that the current owner aims to subtly destroy the salt flats in order to sell the area as a building plot to the booming tourist industry. This would mean that not only a traditional heritage site and a source of income for the local population would be lost, but also the precondition to save the great conservation value of the salt flats.
By the means of pumps, seawater is channelled through a complex system of flat basins. The different levels of salinity in the basins makes the creation of a number of ecological niches possible, which then become ideal feeding grounds for water fowl and waders such as stilts, redshanks and flamingos.
EuroNatur in unison with its partners urges the Montenegrian government to immediately set the Ulcinj Saline under its protection and to guarantee an effective future operation of the salt works.
Watch the film "The Endangered Treasure of Ulcinj"
More about what EuroNatur does to protect the Saline Ulcinj