Shot down, plucked and sold on the black market. This is the fate of the hundreds of thousands of migratory birds that fall victim to bird hunting in Serbia and Romania each year. In "The Massacre of Europe's Songbirds", an article for the American news magazine Newsweek, Luke Dale-Harris exposes the Mafioso background to this bird massacre.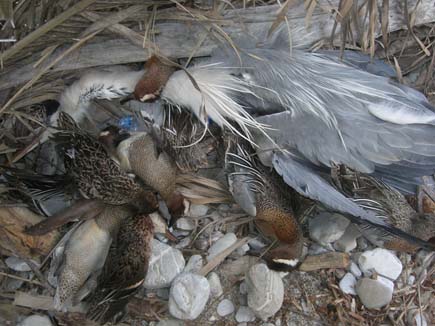 As part of his research, the English journalist went into the field with workers from EuroNatur's partner organisations Bird Protection and Study Society of Serbia (BPSSS) and Milvus in the hunt for evidence. Bird hunters flock to the wetlands in both countries, shooting at everything in their path. The majority of those shooting are Italian hunting tourists, detouring to Serbia, Romania and other countries in the Balkans to find bird-hunting, because controls in their own country have been tightened up. The captured birds are mostly smuggled into Italy across the Adriatic and sold there for high prices. This bloody business is mainly organised by Italian agencies. Yet all too often, corrupt officials from Romania and Serbia are also involved.
Dale Harris illustrates how quickly poaching and smuggling can collapse when the authorities have committed people working on it, taking the example of the Croatian environmental inspector Zeljko Vukovic.
To Newsweek article: The Massacre of Europe's Songbirds (English)

EuroNatur and its partners in the Hutovo Blato nature reserve in Bosnia-Herzegovina have also scored a great victory against bird-hunting. As a result of intensive controls, there has been a marked recovery in bird populations.

Support EuroNatur's work against bird hunting – donate now!