++ 90'000 signatures presented to Prime Minister of Montenegro Duško Marković ++ Lasting protection of Adriatic saltern is prerequisite for the country's accession to the EU ++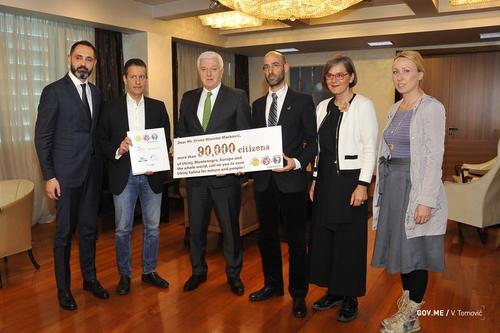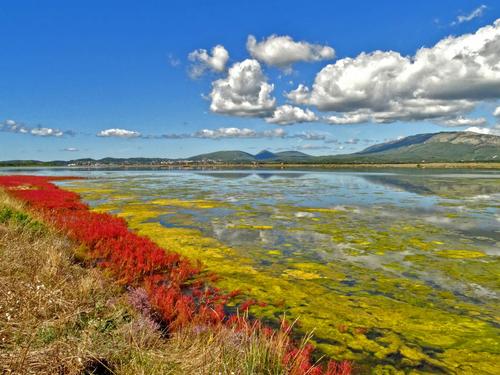 Radolfzell, Ulcinj. With more than 90'000 signatures and good arguments in their sleeves, representatives of four international nature conservation organisations have called on Montenegro's Prime Minister Duško Marković in person to finally give protection to Ulcinj Salina. This is not an unusual demand at all: The wetland's protected area status is one of the preconditions for Montenegro's accession to the European Union – a result of intensive advocacy work of nature conservationists in EU bodies.
"The EU made it very clear to Montenegro: There will be no accession to the EU without the conservation of Ulcinj Salina. By continuing its stalling tactics, Montenegro is harming its own interests", says Gabriel Schwaderer, Executive Director of nature conservation foundation EuroNatur.
Ulcinj Salina is among the most important wetlands along the Adriatic coats and a crucial stopover site to tens of thousands of water birds on their migration. Nature conservation organisations EuroNatur, BirdLife Europe and Central Asia, CZIP and MSJA in June 2018 launched an international petition as the Montenegrin government continuously failed to implement any of the measures to protect the saline which it had promised over the years.
"The successful international petition now steps up the pressure on the prime minister to finally implement his government's numerous promises. When Montenegro joins the EU, Ulcinj Salina has to become part of the Natura 2000 network", says Ariel Brunner, Senior Head of Policy at BirdLife Europe and Central Asia.
More than 90'000 people from all over the world had signed the petition until the 16th of April, when the signatures were handed over to Prime Minister Duško Marković; in the meantime it is even more than 104.000. The organisations in particular call on the prime minister to reinstate salt production in the saline and to keep the saltern as a public property instead of selling it to investors.
"For decades, the saline has been both an important employer for Ulcinjians and a safe haven for birds. The saltern is a good example for nature conservation and economic activity going hand in hand", says Jovana Janjušević of Montenegrin nature conservation society CZIP.
At the fifth conference on the conservation of Ulcinj Salina on the 17th of April in Podgorica, nature conservationists, scientists and government officials will discuss further activities for preserving this essential wetland area.
Background Information:
Read and sign the petition: https://savesalina.net/
Ulcinj Salina in Montenegro, part of the Bojana-Buna delta, is one of the largest salines in the Mediterranean, spanning 1'500 hectares, and one of the most important resting, breeding and wintering sites for migratory birds along the Eastern Adriatic coast.
For further information:
EuroNatur: Anja Arning, anja.arning(at)euronatur.org, Tel. +49 7732 927213
BirdLife: Ariel Brunner, ariel.brunner@birdlife.org, Tel. +32 (0)2 238 50 92
CZIP: Jovana Janjušević, jovana.czip@gmail.com, Tel. +382 20 272 051