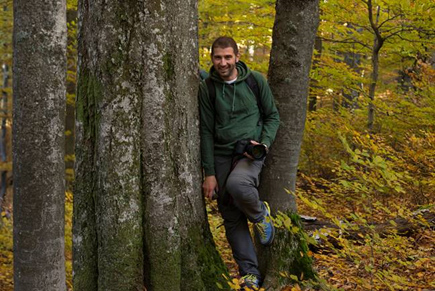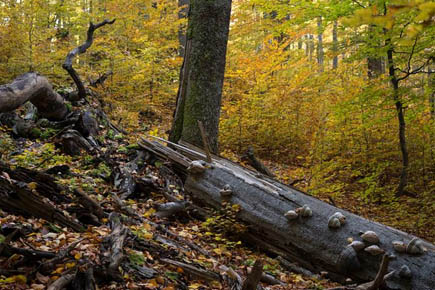 Romanian forest conservationist wins EuroNatur Award 2016
Press release from 29 July 2016
Radolfzell. A few weeks before the Romanian legislative elections in November 2016, the EuroNatur Foundation will send a clear signal for the protection of Europe's last primeval forests. On October 12th, Romanian conservationist Gabriel Paun will receive this year's EuroNatur Award, joining outstanding personalities like Prince Charles, Mikhail Gorbachev, and US best-selling author Jonathan Franzen. All of them received the EuroNatur Award for their exemplary commitment for the protection of Europe's natural heritage.
"Gabriel Paun is beyond comparison in fighting with every possible personal effort for the Carpathian old-growth forests in Romania – forests that remained untouched by man for centuries and are among the most important natural treasures on our continent", EuroNatur president Christel Schroeder explains why he has been elected to receive this year's EuroNatur Award. Gabriel Paun, founder of Romanian nature conservation NGO Agent Green, has been uncovering and exposing to the public for years how logging activities in Romanian forests massively violate laws.
There are hardly any primeval forests left in Europe. As the one EU Member State where more old-growth forests survived to date than anywhere else, Romania currently still harbours about 60% of the continent's remaining old-growth forests (excl. Russia). But this unique natural treasure is dwindling away: Over the past ten years, vast areas of these more than 6000-year-old forest ecosystems have been destroyed. Many of these primeval forests have been cut down illegally. Romanian authorities do not thoroughly enforce the legal protection of old-growth forests. The wood is also being sold in German DIY stores.
Background information:
EuroNatur Award: Laureates of previous years include Jonathan Franzen, Prince Charles, Mikhail Gorbachev, Nelson Mandela, Dr. Ernst Paul Dörfler, Prof. Dr. Klaus Töpfer and Dr. Hans Bibelriether. The EuroNatur Award is non-monetary. It honours an outstanding commitment in the field of nature conservation. The EuroNatur Award 2016 will be given on 12 October 2016 at 5 p.m. to Gabriel Paun on Mainau Island (Lake Constance).
Gabriel Paun is a Romanian biologist campaigning for nature conservation and animal protection. Working for Greenpeace, he was instrumental in achieving a ban of genetically modified soy in Romania. He's also active for Four Paws and Animals International. For many years he has been campaigning for forest protection. Among his achievements is a temporary stop of illegal construction works on route 66a through Retezat and Domogled National Park in Romania which harbours one of the last primeval beech forests of Europe. 2009 Gabriel Paun founded the Romanian nature conservation NGO Agent Green.
For further information:
EuroNatur, Konstanzer Str. 22, 78315 Radolfzell, Tel.: +49 7732 - 92 72 10, Fax: +49 7732 - 92 72 22, info@euronatur.org, www.euronatur.org, Press contact: Katharina Grund, Contact person: Gabriel Schwaderer