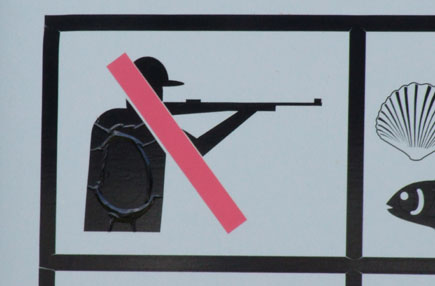 Groundbreaking decision to protect migratory birds and wildlife

Press release, 3 June 2016
Radolfzell. Yesterday the Albanian Parliament decided to extend the ban on hunting throughout the country for a further five years. Despite the protests from hunters, the Ministry of Environment's bill was passed with a small majority. The hunting ban will come into force with the publication of the law, which is expected to happen within the next two weeks. The long overdue extension is the result of persistent pressure from both national and international nature protection organisations, including the Albanian partner organisations of the nature protection foundation, EuroNatur. In March 2014, the Albanian government first imposed a two-year moratorium on hunting throughout the country. The massive decline of wildlife in Albania triggered this action.

"EuroNatur congratulates the Albanian government and Albanian parliament on this decision. The extension of the moratorium on hunting is groundbreaking and was an urgent necessity. Now, it is essential that the hunting ban is put into practice," said Gabriel Schwaderer, the Executive Director of EuroNatur. Albanian wildlife levels are still catastrophically low. One of the reasons for this is that every year the wetlands and the remote areas of Albania's Adriatic coastline become a death trap for hundreds of thousands of migratory birds.

"To change course, the Albanian government must impose the moratorium on hunting and press ahead with the comprehensive hunting reform that is already in process. This must include the monitoring of huntable species which complies with international standards. Hunting quotas and lists of huntable species must no longer be pulled out of thin air. Establishing solid controls and punishing violations of the law is also essential," said Thies Geertz.

Although the situation is still critical, the first positive effects of the hunting ban are being seen already. In 2015, commercial hunting tourism plummeted. Instead, the number of birdwatchers in attractive birdwatching areas such as the Karavasta Lagoon has risen. "The hunting ban has given the local population new sustainable sources of income. The challenge now is to move forward in this manner," stated Thies Geertz.

Background Information:


Along with local organisations, EuroNatur introduced two large programmes for the protection of wildlife in Albania:
Protecting migratory birds and their habitats along the Adriatic Flyway
Protecting the last Balkan lynxes


For further information: EuroNatur, Konstanzer Str. 22, 78315 Radolfzell, Tel.: +49 7732 - 92 72 10,
Fax:+49 7732 - 92 72 22, E-Mail: info(at)euronatur.org, Contact person: Gabriel Schwaderer, Press Contact: Katharina Grund


This press release was translated by Alice Vernon-Clarke (volunteer of The Rosetta Foundation'sTranslation Commons).