Strandzha Natural Park on the Bulgarian Black Sea coast faces irreversible impacts by huge construction projects, threatening the unique natural treasures of this exceptional part of the Balkan Green Belt.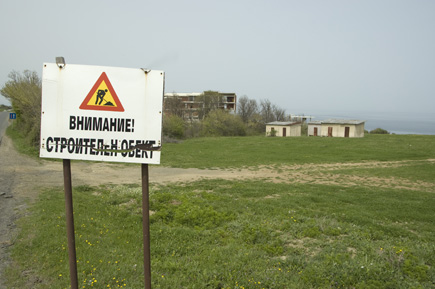 In the end of January nature protection organizations, inter alia the Bulgarian Biodiversity Foundation, partner of EuroNatur, set up street protests in Sofia as well as four other Bulgarian cities criticizing the decision of the highest administrative court in Bulgaria which legitimated the land use plan of the Municipality of Tsarevo and hence allowed construction in the valuable Strandzha Natural Park. The current decision counteracts a court decision from 2009 having stated that a former positive environmental impact assessment had been invalid following a conflict of interests, and thus putting a temporary stop to the construction plans.
"With the current decision of the highest administrative court, the status 'Nature Park' remains a mere farce. The land use plan of the Municipality of Tsarevo is neither compatible with the Strandzha Natural Park management plan nor the status as a Natura 2000 site. An extraordinary diversity of habitats, plants and animals are in danger", says EuroNatur Executive Director Gabriel Schwaderer.
Strandzha Natural Park is the largest protected area in Bulgaria and one of the last parts of Europe where you can still find large areas of very old oak forest. Furthermore the park is an important key stop for migrating birds flying along the so-called Via Pontica, the second biggest bird migration route in Europe. More than 260 bird species have been recorded at Strandzha Natural Park. At the same time its location on the Black Sea coast makes it a very interesting spot for building companies. The struggle for the park has begun long ago. EuroNatur supports the efforts of its Bulgarian partners and demands the immediate stop of the construction plans from the Municipality of Tsarevo.