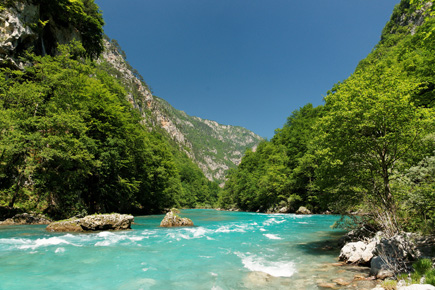 Over 570 dams projected – international campaign launched
Joint press release by EuroNatur and Riverwatch
March 20, 2014
Vienna, Radolfzell, Belgrade. As a contribution to this year's UN World Water Day (22.3.) on the topic of "Water and Energy", EuroNatur and Riverwatch draw attention to the impending destruction of rivers on the Balkan Peninsula. Disguised as green sources of energy, more than 570 hydropower plants (> 1 MW) are planned to be built between Slovenia and Albania. One of the most significant natural treasures of Europe is at stake. The Blue Heart of Europe is at risk of a heart attack. In order to prevent this from happening, EuroNatur and Riverwatch have launched the campaign "Save the Blue Heart of Europe", which we present today in Belgrade.
"We have to stop this dam craze. Many of these projects violate EU laws, making their funding through international investors even more scandalous. Hydropower is not green but destroys precious natural landscapes" says Ulrich Eichelmann, CEO of Riverwatch – an international society for the protection of rivers. "Hydropower plants are being proposed without regard for nature and people, even in national parks. This is unacceptable and hampers the potential for sustainable economic development in the respective countries. Hydroelectric development must take aspects of nature conservation into account. A masterplan for the protection of the most valuable natural rivers in the region is imperative" says Gabriel Schwaderer, CEO of EuroNatur.
Nowhere else on the continent can one find such a tremendous number and variety of pristine, wild rivers, crystal clear streams, extensive gravel banks, untouched alluvial forests, spectacular waterfalls, and even karstic underground rivers. The Blue Heart of Europe beats on the Balkan Peninsula. This is what the extensive research, which was conducted by Riverwatch and EuroNatur in the last two years, confirmed.

The two organisations assessed the hydromorphology (the structural intactness of the river) of about 35,000 river kilometers on the Balkan Peninsula, researched existing and planned hydropower plants, and conducted a study on fish and mollusc (mussels and snails) biodiversity. The results are both impressive and alarming:
30 % of the rivers are in a natural, another 50% in a near-natural structural condition. In Albania and Montenegro, even more than 60% of the rivers are unspoiled. In comparison to the rest of Europe: Germany 10%, Austria 6%.
573 medium and large-scale hydropower projects are in preparation. Even national parks are not to be spared.
The Balkan rivers are a major hotspot for biodiversity on the continent: 69 fish species are endemic to the Balkan. Furthermore, 151 rare species of freshwater molluscs live in these rivers, representing 40.5% of all endangered mollusc species in Europe.
The projected hydropower plants put the survival of 70% - 75% of these endangered species in jeopardy. Among them, the Danube Salmon – the biggest trout species in the world. The global distribution hotspot of the Danube Salmon is believed to be concentrated in only a few rivers of the Danube river basin on the Balkan.

In cooperation with local partners in the respective countries and with the support from the MAVA foundation and the Manfred-Hermsen-Stiftung, EuroNatur and Riverwatch have launched the "Save the Blue Heart of Europe" campaign aiming to save this natural European heritage from destruction. The goals of the campaign are:
to raise public awareness about Balkan rivers, their ecological values and vulnerability
to stop dam projects in the 3 key areas: Vjosa (Albania), Mavrovo National Park (Macedonia) und Sava (Slovenia to Serbia)
to stop the dam tsunami: coordinate the development of a masterplan with no-go areas for dam construction for all Balkan rivers
to improve knowledge about the rivers and their biodiversity

Further information:
www.balkanrivers.net
www.euronatur.org/Blue-Heart-of-Europe
www.riverwatch.eu/balkan-rivers


Contacts:
EuroNatur: Contact person: Romy Durst, Media contact: Katharina Grund. Tel: 0049 7732 92 72 10. Konstanzer Str. 22, 78315 Radolfzell. Fax: 0049 07732 92 72 22, info@euronatur.org, www.euronatur.org
Riverwatch: Ulrich Eichelmann, Tel: 0043 676 6621512, ulrich.eichelmann@riverwatch.eu; Cornelia Wieser: Tel. 0043 650 4544784, Neustiftgasse 36, 1070, Vienna, www.riverwatch.eu