Green groups slate leaked EU renewables emergency measures: EU plans for an emergency regulation to accelerate renewable energy deployment are highly destructive for biodiversity, undemocratic and possibly illegal, CEE Bankwatch Network and EuroNatur warned today, after a leaked text of the proposal was published by Context Energie. [1]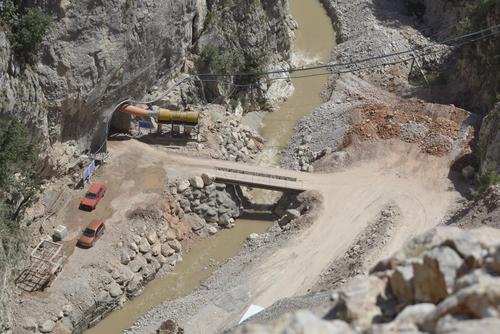 The proposal – expected to be formally unveiled by the Commission this week – seeks to use Article 122 of the EU Treaty, which allows the EU to take emergency measures, particularly to overcome energy supply difficulties [2]. However, the draft does not actually entail quick fixes for the energy crisis – setting deadlines for permitting alone does not change the fundamental problems. In addition, the text goes far beyond economic measures with severe and disproportionate effects on key environmental laws. It also duplicates amendments to the Renewable Energy Directive currently being discussed by the European Parliament [3].
The proposal includes an extremely controversial article that would see all renewable energy projects presumed to be of 'overriding public interest and serving public health and safety'. For example, if it is deemed that there are no suitable alternative solutions, a hydropower plant could be built, no matter how much it damages Natura 2000 sites or degrades river water quality. This undermines existing EU environmental legislation which allows such harmful developments only after assessing projects on a case-by-case basis [4].
In contradiction with existing legislation, the proposal would also loosen the criteria for killing and significant disturbance of birds to be considered a deliberate act.
Gabriel Schwaderer, Executive Director at EuroNatur, said: 'What is most frustrating is that this attack on nature will not even make a significant difference to EU renewable generation. Environmental legislation is not the problem but the fundamental safeguard needed – stripping away protection therefore does not solve the problem but simply creates other, or even more problems. This proposal in particular will also add significant legal uncertainty on top of that.'
He added: 'Rapid development of sustainable renewables is crucial, but the Commission's thoughtless dismantling of EU environmental legislation is opening Pandora's box and leading us towards a biodiversity disaster. Today it's the renewables industry getting special treatment, but which industries will stake their claims tomorrow?'
Pippa Gallop, Southeast Europe Energy Advisor at CEE Bankwatch, said: 'The Council and Commission's abuse of Article 122 of the EU Treaty to undermine existing environmental legislation – the Habitats, Birds and Water Framework Directives – without consulting the public or the EU Parliament, will most likely generate lengthy legal challenges and create a public backlash rather than speeding up renewables deployment.'
The Commission needs to drop this plan and concentrate on tackling the real barriers to renewables development, such as unnecessary spatial planning restrictions, low digitalisation of permitting procedures, and a lack of administrative capacity in permitting bodies', she concluded.
Update, 9 November:
The Commission has now presented its proposal, which is available HERE but despite cosmetic changes, does nothing to address our concerns.

Notes for editors
[1] Key sections of the leaked document are available at: https://twitter.com/AnnaHbrt/status/1589536615915229184
[2] On 20 October the EU Council called on the European Commission and the Council to make urgent proposals to tackle the energy crisis, including 'fast-tracking of the simplification of permitting procedures in order to accelerate the rollout of renewables and grids including with emergency measures on the basis of Article 122 TFEU'.
[3] On 25 October the Environment Committee of the European Parliament voted on a set of amendments to the Renewable Energy Directive. Civil society organisations' reactions to the vote can be found here, here and here. The ITRE Committee is expected to vote on 14 November on a further set of amendments which fall under its remit.
[4] The proposed change regarding 'overriding public interest and serving public health and safety' will undermine the protection of Natura 2000 sites in the Habitats Directive (Articles 6(4) and 16(1)(c)), the protection of birds in the Birds Directive (Article 4(7)) and achieving good water status of rivers in the Water Framework Directive (Article 9(1)(a)).