An international workshop for the protection of spoonbills took place from 25 to 30 September 2012 in the Nature Reserve of the Marshes of Santoña in northern Spain. Many partners of EuroNatur took part. A short movie of the workshop shows what successes have already been achieved in the protection of the spoonbills and which challenges still have to be met.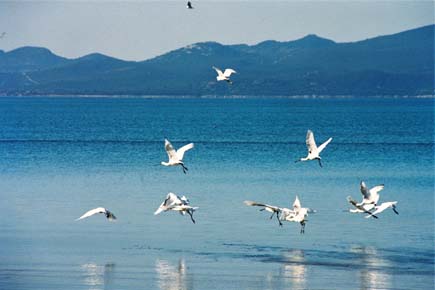 Around 35 scientists and representatives from nature conservation organisations from Europe, Africa, and Asia got together in Arnuera, a village on the Spanish North coast in the Nature Reserve of the Marshes of Santoña. They discussed the current situation of the protection of spoonbills and possible solutions to upcoming problems. Presentations for example compared the Atlantic and the Adriatic Flyway, both of which are used by European spoonbills migrating to the south for the winter months. It was shown that birds from Central and Northern Europe use the Adriatic Flyway over the Balkans and are often threatened by illegal bird hunting, whereas populations from Western Europe using the Atlantic Flyway over France and Spain do not face these problems. Thanks to intensive protection campaigns during the past years, spoonbills and other migratory birds find enough resting areas on their journey along the Atlantic Flyway.

These conditions are represented in the number of spoonbills in different parts of Europe. While the spoonbill population increases in Western Europe, the number of birds continually decreases in eastern parts of Europe. In the final declaration of the workshop, participants therefore concluded that it is necessary to improve bird protection along the Adriatic Flyway.

A person highly committed to the protection of European migratory birds was EuroNatur project manager Dr. Martin Schneider-Jacoby, who passed away in August 2012. In recognition of his great achievements in the protection of spoonbills, participants of the workshop installed a memorial tablet on the ecomuseum of Santoña Nature Reserve.



Click here to watch the short movie of the workshop