Ready for the return of the storks: volunteers have put up twelve new nesting platforms in the Polish stork village Pentowo last weekend despite frosty temperatures. 35 hatcheries are now ready for the homecoming storks.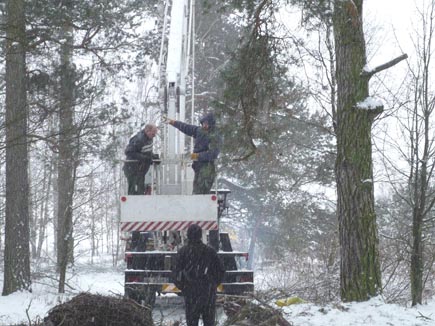 In Pentowo, a district of Tykocin in the northeast of Poland, one single farm is home for the largest Polish colony of white storks. The village is located near the wetlands of the river Narew. The farmers, aided - amongst others - by EuroNatur, have set up platform hatcheries on the nearby trees of their premises. They managed to increase the number of nests from 2 (at the end of the 1980ies) to now 35. Twelve nesting aids had to be replaced. The heavy storms of last autumn and timber worms have considerably damaged some of the old platforms. During this action, helpers also cut branches and treetops of the nesting trees to make the landing on the bird nests easier for the storks.
EuroNatur has engaged intensely in the protection of white storks and their habitats in Europe for years. It encourages positive approaches to protect storks by, for example, the "European Stork Villages" award.