On December 4, the Bulgarian NGO Green Balkans succeeded in locating the radio-tagged female Imperial Eagle called Gabriela in the area of the Dervent Heights, close to the Turkish border. Gabriela is the third of the Imperial Eagles radio-tagged by Green Balkans that has survived its first 1-2 critical years.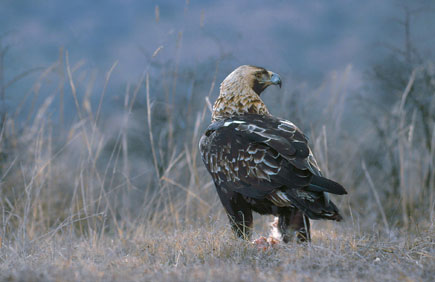 Gabriela hatched in the adjacent Sakar Mountains in 2008 and was radio-tagged before fledging by EuroNatur partner Green Balkans. Since then, the nature conservationists had been tracking her signals. Regular radio signals now helped to trace the juvenile female Imperial Eagle in the Dervent Heights, where it was observed flying over the territory with another Imperial Eagle of about the same age. Obviously, the two have become a pair.

A few kilometers away from the site, another young Imperial Eagle was observed. The observation of the three birds proved once again how important the Dervent Heights and the adjacent territories are for juvenile Imperial Eagles.
EuroNatur's and Green Balkans' joint aim is the long-term conservation of the natural nesting and breeding places of the Imperial Eagle. To achieve this aim, Green Balkans, with the support of EuroNatur and the Econet Action Fund, has started buying plots of land in the last years where you can find trees with eyries.

Link to EuroNatur partner Green Balkans