The EuroNatur partner organisation MES (Macedonian Ecological Society) reports a great success: with the help of a so-called photo trap, the lynx experts succeeded for the first time to prove the existence of a Balkan lynx not only in the Mavrovo National Park but now also in the Jablancia-Shebenik mountains along the borders of Macedonia and Albania.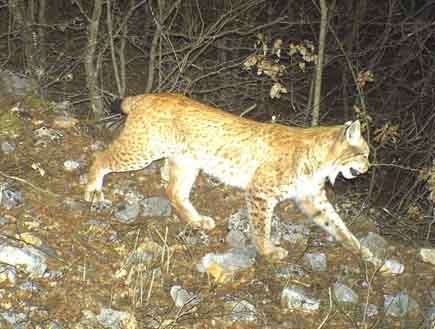 Scientists had only little proof so far that the Balkan lynx still roams about the forests of the Jablanica-Shebenik mountains these days. The photo trap flashed near the village Modrich on April 7th: a lynx passed the infrared barrier of the camera and released a picture. This new "photographic evidence" from the Jablanica mountains is now an important argument to convince decision makers that this region is worthwhile protecting. The Albanian government has indeed designated 340 square kilometres of the ecologically precious mountains as a natural preserve in May 2008, but the designation from Macedonia's side is still pending.
EuroNatur and its partner organisations KORA (coordinated research organisation for large predators in Switzerland), MES and PPNEA (Preservation and Protection of Natural Environment in Albania) will join forces and work hard that this habitat for the Balkan lynx will become a permanent preserve, too.