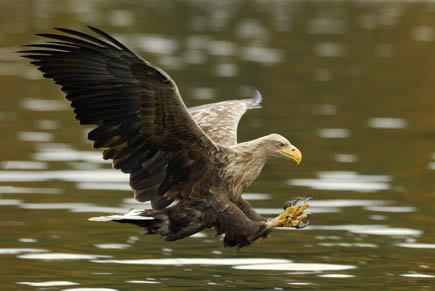 Last year UNESCO officially recognised the 630,000 hectares of floodplains in Hungary and Croatia that comprise the lion's share of the planned Mura, Drava and Danube biosphere reserve, which will span five countries. Now the Serbian government has followed suit: on 27 September it applied to UNESCO to have valuable river landscapes along the Croatian-Serbian border accepted as another building block for this trans-boundary protected area.

The Serbian section of the Danube floodplains, comprising just under 177,000 hectares, makes up 20% of the future trans-boundary biosphere reserve. These unique wetlands offer important safe havens to endangered species such as the white-tailed sea eagle, black stork, ferruginous duck, wild cat, otter and red deer. "Serbia's initiative is another important step on the path to permanently preserving the natural paradise along the Mura, Drava and Danube. Now it is the turn of Austria and Slovenia to incorporate their valuable nature reserves into this joint protected area," says Gabriel Schwaderer, head of EuroNatur.

Together with numerous national and local partners, EuroNatur and the WWF have been campaigning for many years for trans-boundary protection for the river landscapes of the Mura, Drava and Danube. Serbia's nomination of land is one more significant achievement in their years of persistent efforts to persuade others of the rightness of their cause. Whether or not the Serbian floodplains along the Danube will form part of the international network of the UNESCO biosphere reserve will be decided in June 2014 by the UNESCO Man and Biosphere Committee in Paris.

More about EuroNatur's work to protect the valuable river landscapes of the Drava and Mura.