Good news from Albania: With a camera trap EuroNatur's partner organization PPNEA successfully shot a picture of a Balkan Lynx in the Albanian national park Shebenik-Jablanica last Friday.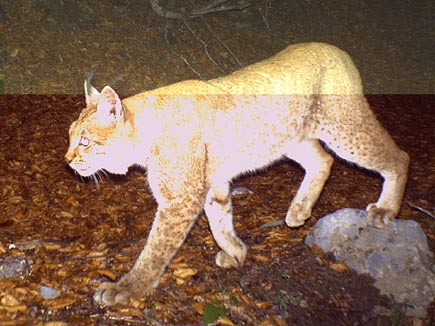 The first Balkan Lynx in this region was captured by a camera trap this summer, giving evidence that the Albanian part of the Jablanica-Shebenik Mountain Range is also the territory of this endangered big cat. In April 2010 the first photographic proof of the Balkan Lynx was obtained in the adjacent Macedonian Jablanica Mountains.

The second picture, taken by the photo trap in Shebenik-Jablanica National Park, is further important proof of the presence of lynxes in the Albanian-Macedonian border area. Furthermore, the long-term studies in this region also show, that only very few of these rare cats still live here. "Therefore we have to press ahead intensively with our conservation efforts", states EuroNatur's managing director Gabriel Schwaderer. Together with its partners, EuroNatur campaigns for the acknowledgement of wide parts of the Jablanica-Shebenik Mountains as a cross-border sanctuary and combats poaching.
More on EuroNatur-projects to protect the Balkan Lynx


Im Sommer dieses Jahres lief der erste Balkanluchs in diesem Gebiet in eine Fotofalle und sorgte damit für den Beweis, dass auch der albanische Teil des Jablanica-Shebenik-Gebirgszuges zum Lebensraum der bedrohten Großkatzen gehört. Im angrenzenden mazedonischen Jablanica-Gebirge gelang der erste bildliche Nachweis des Balkanluchses bereits im April 2010.

Das zweite Fotofallenbild im Shebenik-Jablanica-Nationalpark liefert einen weiteren wichtigen Beleg für die Gegenwart der Luchse im albanisch-mazedonischen Grenzgebiet. Allerdings zeigen die langjährigen Untersuchungen in diesem Gebiet auch, dass hier nur noch sehr wenige der seltenen Katzen leben. "Entsprechend intensiv müssen wir die Schutzbemühungen vorantreiben", sagt EuroNatur-Geschäftsführer Gabriel Schwaderer. Gemeinsam mit seinen Partnern setzt sich EuroNatur dafür ein, weite Teile des Jablanica-Shebenik-Gebirges als grenzüberschreitendes Schutzgebiet auszuweisen und die Wilderei zu stoppen.


Lesen Sie mehr über die EuroNatur-Projekte zum Schutz der Balkanluchse
---
Umfassendes Rettungsprogramm
Der Balkanluchs zählt zu den seltensten Großkatzen der Erde: Wahrscheinlich weniger als 50 der scheuen Tiere leben noch im westlichen Mazedonien und östlichen Albanien. Gemeinsam mit seinen Partnerorganisationen KORA (Koordinierte Forschungsstelle für Großraubtiere in der Schweiz), MES (Macedonian Ecolocical Society) und PPNEA (Preservation and Protection of Natural Environment in Albania) hat EuroNatur daher im Jahr 2006 das "Balkan Lynx Recovery Programme"(BLPR), ein Projekt zum Schutz des Balkanluchses, ins Leben gerufen. Die Feldstudien zur Ökologie des Balkanluchses werden vom Schweizerischen Nationalfonds (SNF) und der Direktion für Entwicklung und Zusammenarbeit (DEZA) im Rahmen des Programms SCOPES (Scientific co-operation between Eastern Europe and Switzerland) finanziell unterstützt.

Unterstützen Sie EuroNatur beim Schutz der Balkanluchse - Werden Sie Luchs-Pate!