++ EuroNatur Award 2021 goes to scientists from IPBES (Intergovernmental Science-Policy Platform on Biodiversity and Ecosystem Services) ++ Body cautions tirelessly on biodiversity loss ++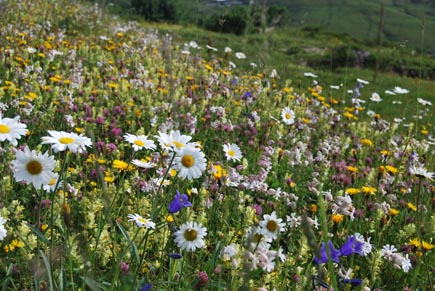 Radolfzell, Bonn. Global species extinction is continuing unabated. Many scientists and commentators are now talking in terms of the sixth great wave of extinction in Earth's history. In many current debates it is becoming increasingly clear just how important it is to have a broad and reliable knowledge base for making appropriate political decisions. In recognition of their tireless efforts in defining biodiversity loss, analysing its causes, identifying possible options for action and presenting scenarios showing future evolutions, Dr Eszter Kelemen, Dr Yunne-Jai Shin and Professor Dr Josef Settele will, on 14 October 2021, receive the EuroNatur Award on behalf of all the researchers at IPBES.
The core task of the World Biodiversity Council IPBES - a United Nations intergovernmental body which operates at the interface between science and policy - is to produce reports on the current state of biodiversity as well as on the benefits that ecosystems provide for people. Its 2019 global report in particular generated media coverage around the world. IPBES President Robert Watson issued a warning about the mass extinction currently happening and the dramatic loss of animal and plant species. Many ecosystem services are non-replaceable and this also has significant consequences for the survival of humanity. A current joint report by scientists from IPBES and the Intergovernmental Panel on Climate Change (IPCC) highlights how closely biodiversity and climate crises are connected as well as the need for integrated solutions.
"The work of the IPBES enables policy makers to better understand complex mechanisms as well as possible alternative courses of action and, on this basis, to more effectively address the ongoing loss of biodiversity and the destruction of habitats," said EuroNatur President Thomas Potthast, explaining the selection for this year's EuroNatur Award. At the same time, the award-winning scientists are showing their personal commitment to civil society by visibly advocating for the conservation of nature and for sustainable development - concerns that the EuroNatur Foundation is also fighting for through its campaigns and projects, Thomas Potthast added.

Background Information:
EuroNatur Award:
Previous winners include Dr Mario F. Broggi, Jonathan Franzen, Gudrun Steinacker, the community of Mals in South Tyrol and the "Brave Women of Kruščica". The EuroNatur Award is a non-monetary award. It is awarded in recognition of outstanding achievements in nature conservation that connect people and nature. The EuroNatur Award 2021 will be presented on Thursday 14 October 2021 at 17:00 (CET) on the island of Mainau, Lake Constance.
World Biodiversity Council – IPBES (Intergovernmental Science-Policy Platform on Biodiversity and Ecosystem Services):
The World Biodiversity Council IPBES, founded in 2012, is an intergovernmental body of the UN and is based in Bonn, Germany. It is tasked with providing scientific advice to policy-makers on the subject of biodiversity and ecosystem services. To this end, member states of the World Biodiversity Council nominate experts to compile the reports.

Enquiries: Christian Stielow, Email: christian.stielow(at)euronatur.org, Tel: +49 (0)7732 92 72 15