The Balkan lynx is on the brink to extinction. According to the latest scientific research, there are not more than 20 to 40 odd animals left. Researchers of the Macedonian Ecological Society (MES) presented this pessimistic scenario on the 4th Congress of Ecologists of the Republic of Macedonia (12 - 15 October 2012).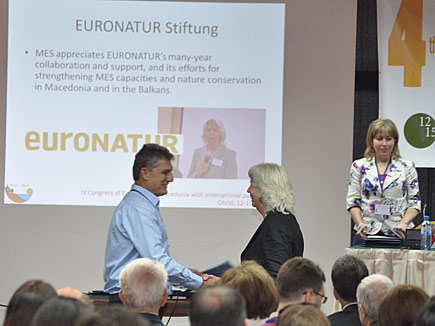 Around 250 participants from Macedonia and other European countries got together in Ohrid, Macedonia, to discuss the current situation of nature and wildlife conservation within the country and find ways to tackle pressing challenges. The congress was held by the Macedonian Ecological Society. This year the organization celebrates its 40th anniversary.

EuroNatur has cooperated with MES since 2004. The two organizations worked together for the declaration of new, large-scale and transboundary protected areas in and around Macedonia, thus sustainably conserving the habitat of the Balkan lynx and other rare species. In recognition of many years of cooperation and support, Ljupco Melovski, MES president, presented Christel Schroeder, president of EuroNatur, with a certificate of appreciation.