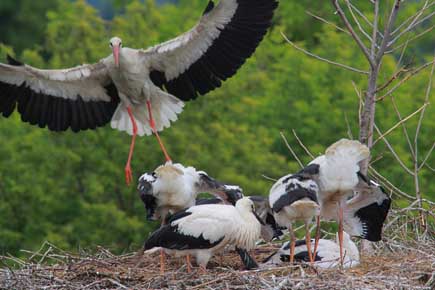 The black-and-white summer guests are a common sight in Pentowo, Poland. The Toczylowski family estate is located on the border of the wetlands of the Narew River in northeastern Poland, which thanks to intensive protection measures presently hosts 31 stork pairs with a total of 60 juveniles.
Within the scope of the project "European Stork Villages", EuroNatur had awarded the village Tykocin including the Pentowo estate in 2001 for its outstanding efforts in protecting the storks. Especially the Toczylowski family made strong efforts to preserve the habitat of Mr. Stork, and they were successful: end of the eighties, there were just two stork nests in Pentowo; today, the estate hosts a colony of far more than 100 white storks.
In time for the 10th anniversary of the "European Stork Village" Tykocin, the inauguration of the stork gallery took place on the Pentowo estate, which is a popular destination for nature tourists.
With the support of EuroNatur, the already existing small information center was transformed into a comprehensive stork gallery: in addition to detailed information, the exhibition offers high-quality pictures of plants and animals typical of the Narew region. About 70 people participated in the inauguration of the gallery; apart from the representatives of EuroNatur and the estate owners, two managers of the neighboring Narew and Biebrza National Parks, several decision makers from the region and journalists of two regional TV-stations took part in the event. The exhibition intends to give the broad public an understanding of the need to protect the white stork in the Narew region.
Poland hosts the largest number of white storks worldwide. However, the number of storks in selected control areas in the northeast of the country has been declining around 30% since 2005. This is mainly due to the EU agricultural policy: extensive meadows and grasslands are becoming increasingly unprofitable, entailing the gradual loss of a large part of such areas which are a vital habitat for the white storks.

Both the EuroNatur project "European Stork Villages" and their lobby work for nature conservation policy on EU-level shall secure the future of the white storks in Europe.

Read more about the project "European Stork Villages"
Read more about EuroNatur's activities for an improved agricultural policy in the EU
Read more about EuroNatur's activities for the protection of the Narew region