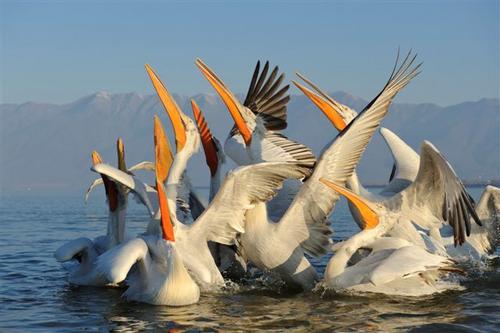 'This is a really impressive example of active citizenship in the Balkans,' says Gabriel Schwaderer, EuroNatur's managing director, as he praises PrespaNet, the new community initiative run by the Macedonian Ecological Society (MES), Protection and Preservation of Natural Environment in Albania (PPNEA) and the Society for the Protection of Prespa (SPP).

Representatives of the three organisations met in Laimos in Greece, to launch the trans-boundary environmental network. Their goal is to work together to provide a permanent safeguard for the natural and cultural assets around both the lakes of the Prespa region (where Macedonia, Albania and Greece meet) and to drive forward their sustainable development.

The varied lakeland and mountain landscape is one of the most ecologically valuable sections of the European Green Belt. Birds threatened with extinction, such as the Dalmatian Pelican, still breed here in large numbers, benefitting from the lakes extraordinarily rich fish stocks. However, overfishing, intensive agricultural irrigation and overgrazing are putting this unique natural treasure in danger.

EuroNatur has been working for many years with its partners on the spot to achieve effective trans-boundary protection of the region. But the tense political situation, particularly between Macedonia and Greece, meant that only minor progress had been possible until now. 'The current agreement between the three organisations is a great response to the failure of the governments to tackle the pressing ecological problems of this three-border area,' says Schwaderer.

To the organisations' joint press release
More about EuroNatur's projects to preserve the natural assets of the Prespa-Ohrid region