The Dalmatian pelicans at Lake Skadar are breeding successfully. This is all the more gratifying because last year's breeding season was disastrous.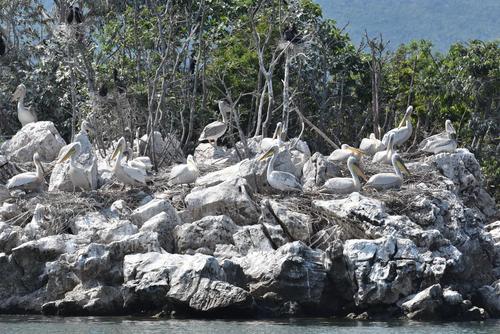 165 adults with at least 32 young: This is the result of this year's pelican census at Lake Skadar in Montenegro. Although the number of young birds is only half as large as in 2021, the numbers still give cause for optimism. Last year was a disastrous season for the Dalmatian pelicans. Due to human disturbances, the pelicans twice abandoned their nests on the breeding platforms for the long term in the crucial phase of their breeding business. This had an even more fatal effect because only a few pairs had been breeding in the spring of 2022 anyway. Bird flu was rampant among the birds and claimed several thousand victims in the whole region.
At Lake Skadar, the Dalmatian Pelican population is concentrated in two different breeding sites this year: on a naturally floating island made of plants, as well as the larger part on the rocky island of Mali Moračnik on the southern shore of the lake. This area was developed by the colony's breeders for the first time ever and shows that the pelicans are quite flexible when it comes to habitat conditions of their breeding sites. Apart from Lake Skadar in Montenegro, there are other breeding sites of the Dalmatian Pelican in Southeastern Europe. We also received good news from there concerning the breeding season 2023. While the global population has declined dramatically in recent years, the species' numbers in the Balkans were stable until the outbreak of avian flu thanks to strict conservation measures. However, in order to compensate for the losses caused by last year's bird flu outbreak, several consecutively successful breeding seasons are needed.