The small town of Kukës in northeastern Albania has been recognised as a Model Municipality of the European Green Belt. EuroNatur Executive Director Gabriel Schwaderer presented the award.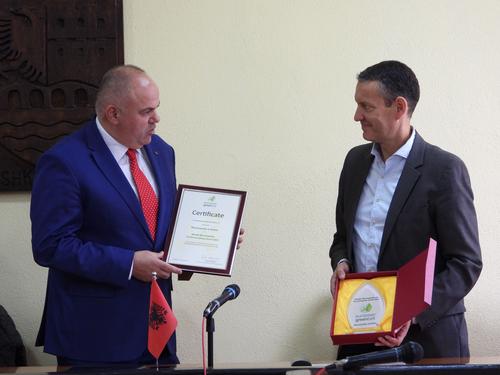 At the award ceremony on 9 November, Gabriel Schwaderer congratulated the entire municipality, and in particular mayor Safet Gjici, for its contribution to nature conservation along the Balkan Green Belt. Kukës played a very active role in the designation of the Korab-Koritnik Nature Park ten years ago and has continued to be involved in the region ever since. Albania closed itself off completely under communist rule and its heavily guarded border areas became a refuge for many endangered animal and plant species.
The European Green Belt Association also congratulated Mayor Gjici on the designation of the Albanian Tulip (Tulipa albanica) as a natural monument. The plant is found only in high altitude regions of Albania and is threatened by mining activities.
Mayor Safet Gjici said nature conservation provides Kukës with great opportunities for ecotourism. The town's administration is committed to low-impact development activities that do not destroy nature. EuroNatur and its Albanian partner organisation PPNEA welcome a strengthening of ecotourism, but also stress that such opportunities must go hand in hand with a responsibility to conserve nature.