++ Gudrun Steinacker receives EuroNatur Award 2017 ++ German ambassador (ret.) to Montenegro strongly advocated protection of Ulcinj Salina ++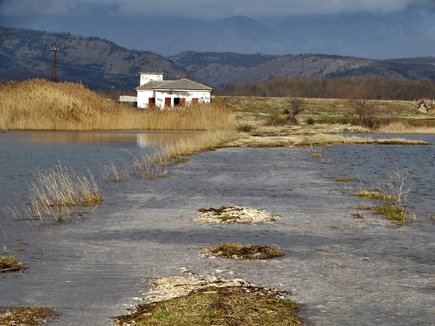 Radolfzell. Threatened birds paradise – this would be a brief description of Ulcinj Salina in Montenegro. By giving this year's EuroNatur Award to Gudrun Steinacker, the internationally active nature conservation foundation EuroNatur sends a strong signal for the protection of the saline and against its unscrupulous destruction. On the 11th of October, the diplomat and former German ambassador to Montenegro (2014-2016) will accept the award which honours dedicated nature conservation activists. She will join personalities like Klaus Töpfer, Hans Bibelriether, Mario Broggi, Prince Charles, and US best-selling author Jonathan Franzen. All of them received the EuroNatur Award for their exemplary commitment for the protection of Europe's natural heritage. "The award is to honour Gudrun Steinacker's great personal commitment for saving Ulcinj Salina", EuroNatur president Christel Schroeder explains why she has been elected to receive this year's EuroNatur Award. After her career as a diplomat, Gudrun Steinacker continued to be active for nature protection on the Balkans. Among other things, she is vice president of the Southeast Europe Association und member of the Association Dr. Martin Schneider-Jacoby.

The dispute over Ulcinj Salina is keeping EuroNatur and its partners busy for years already. The lagoon, which was reshaped for salt production about a hundred years ago, is a critical hub for bird migration at the east coast of the Adriatic Sea. While the area meets the criteria for Wetlands of International Importance according to the Ramsar Convention, the designation is still missing. Likewise, it's long overdue to grant the saline protection according to national law. Up to now, the government of Montenegro didn't take any effective measures to protect this natural treasure.
Background information:
EuroNatur Award: Laureates of previous years include Jonathan Franzen, Dr. Luc Hoffmann, Prince Charles, Mikhail Gorbachev, Nelson Mandela, Dr. Mario F. Broggi, Prof. Dr. Klaus Töpfer, and Dr. Hans Bibelriether. The EuroNatur Award is non-monetary. It honours an outstanding commitment in the field of nature conservation. The EuroNatur Award 2017 will be given on 11 October 2017 at 5 p.m. to Gudrun Steinacker on Mainau Island (Lake Constance).

Gudrun Steinacker got around a lot during her career as a diplomat. After joining the German Foreign Service in 1978, her workplaces included the United Nations in New York, Zagreb, Moscow, and Sofia. The Slavicist was consul general in Novosibirsk and from 2014 to 2016 ambassador in Skopje, Montenegro. There she was very active for nature conservation, particularly for the protection of Ulcinj Salina. In the meantime, Gudrun Steinacker retired, but she keeps working for nature conservation in Montenegro and the whole Balkan region as an honorary vice president of the Southeast Europe Association und member of the Association Dr. Martin Schneider-Jacoby.
Contact information:
Gabriel Schwaderer, E-Mail: gabriel.schwaderer(at)euronatur.org, Tel.: +49 (0)7732 – 92 72 0 (contact person)
Christian Stielow, E-Mail: christian.stielow(at)euronatur.org, Tel.: +49 (0)7732 - 92 72 15 (press contact)