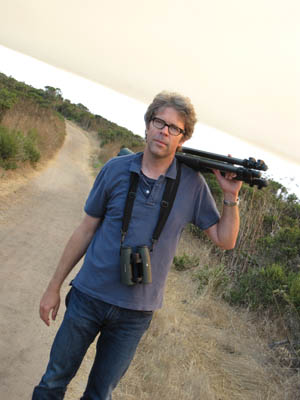 Jonathan Franzen is the EuroNatur Award winner in 2015
Press Release, 14th October 2015
Radolfzell / Germany. Today the US American writer Jonathan Franzen received the 2015 EuroNatur Award on the island of Mainau in Lake Constance. "With this award we honor Jonathan Franzen's great commitment to the protection of birdlife in Europe" says Christel Schroeder, President of the EuroNatur Foundation. "In numerous publications he has highlighted the major threat to European wild birds through loss of habitat and hunting thus helping significantly to bringing it into international public awareness."

In particular his article "Last song for Migrating Birds" in the magazine National Geographic in 2013 was successful in stirring up the international alarm and concern that led to the establishment of a ban on bird hunting in the whole of Albania.

This country is among the main arenas of bird hunting in the Balkans and was a death trap for Europe's migrating birds up to the spring of 2014. Albania lies on the Adriatic Flyway, which is of enormous importance for the Eurasian-African migratory system. At the same time several million birds are shot every year in the five countries (Slovenia, Croatia, Bosnia-Herzegovina, Albania, Montenegro) along the Adriatic Flyway.

"Bird hunting in the Mediterranean is a huge problem. The hunting ban in Albania is an important step but migrating birds are still in danger in many places. It's an honor to be recognized by an organization that is dedicated to protecting nature in direct and concrete ways", says Jonathan Franzen.


Further information and visuals can be found in the download area.
On 14th October the latest photos of the Award ceremony are available from around 8 p.m.

Press Contact: EuroNatur, Konstanzer Straße 22, 78315 Radolfzell, Tel.: +49 (0)7732 - 92 72 10, Fax: +49 (0)7732 - 92 72 22, katharina.grund@euronatur.org