White storks are enjoying a good life, thanks to the rich food sources in the rice fields surrounding the Northern Macedonian commune of Češinovo-Obleševo. The village, which was granted the honour of being declared a stork village in 2013 by EuroNatur, hosted the 16th European Stork Conference from 12-15 July 2019.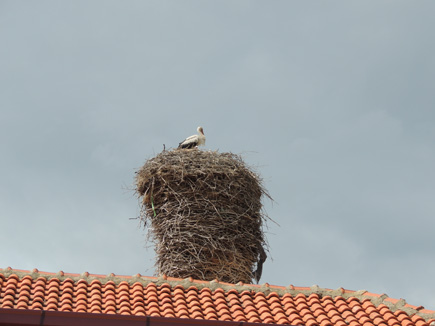 In the middle of June, up to fifty representatives from the network of European stork villages joined the storks and around 7500 inhabitants of the commune of Češinovo-Obleševo. The theme of this year's conference was death by electrocution and the dangers to storks from pylons and power lines - a deadly threat to these large birds. The stork conservationists from various stork villages exchanged their experiences in this field, with additional knowledge being provided by experts who have been deeply involved with this theme over the years.
What became clear at the meeting was that the prevention of electrocution is a never-ending task. Many white storks use the pylons as an alternatives to trees or roofs for the building of their nests - Češinovo-Obleševo is a good example of this. Even when the pylon has been built with a stork-friendly design, the nests will still need further attention. The storks continually add nesting material, and the branches will often stick out, so increasing the risk of electrocution.
How much the title of stork village means for Češinovo-Obleševo became clear when children from the local school performed a dance and music show in lovingly-created costumes in front of the stork building. The young generation in Češinovo-Obleševo is interested in the winged inhabitants of their village.