In Macedonia's Stogovo mountain range, nature conservationists have succeeded in catching a female Balkan lynx and fitting her with a tracking device. Scientists hope the data they gather will tell them more about this rare creature with its tufted ears so that they will be able protect it even more effectively in future.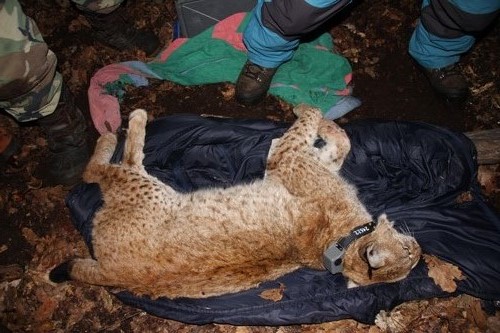 The Balkan Lynx Recovery Team of the Macedonian Ecological Society (MES), one of EuroNatur's partner organisations, was successful in its search for these shy hunters: a few days ago, conservationists caught Maya, a handsome female Balkan Lynx, in a box trap and fitted her with a GPS transmitter. After the transmission collar was successfully fitted, the animal was measured and had blood taken to be used in genetic research. Then it was all over and Maya was able to return to patrolling the forests of the Stogovo mountain range in western Macedonia.
Since then, the lynx protectors from MES have been able to follow her every step. Maya is just the fifth example of an endangered Balkan lynx to be fitted with a transmitter – and the first female. This is all the more pleasing as, in a best case scenario, Maya will be able to supply scientists with data on reproductive success and litter size; important factors in stabilising the population of these extremely rare cats.
EuroNatur and its partner organisations have been working together for many years now to protect the Balkan lynx, which is endangered mainly by poaching and habitat destruction. The data that Maya will supply in the future will increase our knowledge of the behaviour of this shy hunter and enable us to take even more effective action to protect it.