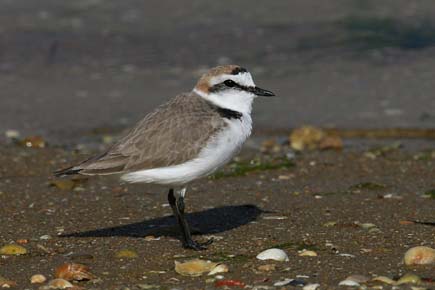 Vital resting grounds along Montenegrin coast threatened by mass tourism +++ EuroNatur demands immediate protection for Ulcinj Salina +++ February 2nd is World Wetlands Day
Press release, 1 February 2016


Radolfzell. To mark World Wetlands Day on 2 February, the EuroNatur nature foundation is highlighting the threatened destruction of resting and overwintering grounds along Montenegro's Adriatic coast that are vital to the survival of migrating birds.
The 1,500 ha Ulcinj salt flats are amongst the most important resting grounds for countless species of ducks and waterfowl on their journey across the Mediterranean region. However, the obstructive attitude of the Montenegrin government means that today they still have no protection under national law. Instead EuroNatur has up-to-the-minute information showing that there are plans to develop this unique piece of European natural heritage for mass tourism. "With these plans, the government of Montenegro is whittling away at their national and international commitments to protect the ecological value of Ulcinj Salina," says Gabriel Schwaderer, head of EuroNatur.
According to information seen by EuroNatur, the new draft regional plan to develop the Montenegrin coastal region foresees a huge building programme for mass tourism. Hotel complexes with 1,500 beds are planned for the Ulcinj salt flats. This although the government and parliament took a decision back in 2012 that Ulcinj Sallina should be given protection. In early April 2015, approx. 80 representatives from nature conservation, politics and business made a joint declaration in Podgorica restating once again the urgency of this. Amongst them was the Secretary of State of the Montenegrin Ministry for Sustainable Development and Tourism, Daliborka Pejovic. Yet today Ulcinj Salina still has no national protection at all. "We are urgently calling for the Montenegrin government to put their words into action and prevent the destruction of Ulcinj Salina before Montenegro's possible accession to the EU," says Gabriel Schwaderer.
According to information received by EuroNatur, Ucinj Salina is not the only natural paradise to be blacklisted in the new draft plan for this coastal region. All of those in danger represent vital refuelling stops essential to the survival of migrating garganey ducks, spoonbills and numerous species of waders. The unspoilt beach of Velika Plaza is one of the longest natural stretches of sand in the whole of the Mediterranean. In these natural dunes, such rare species as the stone curlew, night jar and Kentish plover can be found breeding. This is where it is planned to build tourist accommodation with 25,000 beds. On the island of Ada in the Bojana delta, which is barely five square metres, there are plans for 2,500 beds. Its untouched ancient woodlands, dunes and wetlands make this island exceptionally important for the conservation of biodiversity in Europe. "A fantastic part of Europe's natural and cultural heritage is at risk of falling victim to the greed of just a few. Thus far the government of Montenegro is in no way meeting its international obligations to nature conservation," says Gabriel Schwaderer.

Background information:


Enquiries: EuroNatur, Konstanzer Str. 22, 78315 Radolfzell, tel.: 07732 - 92 72 10, fax: 07732 - 92 72 22, email: info@euronatur.org, website: www.euronatur.org, contact: Stefan Ferger, press contact: Katharina Grund