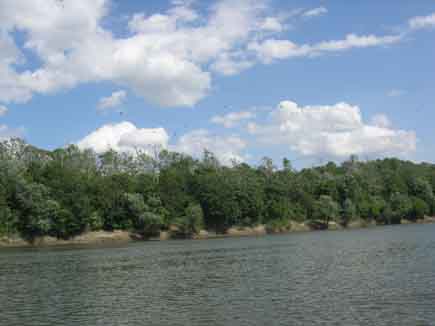 Croatia plans "corset" for one of the last natural rivers in Central Europe

Important step towards the Danube-Sava River Canal?
Press Release from August 30, 2010
Radolfzell. One of the last natural river systems in Central Europe shall be transformed into a uniform navigation canal. Today, August 30, the public hearing for the development of navigation on the Sava River Waterway up to the town of Sisak was closed.
According to the plans of the Hydrological Project Bureau of Croatia (VPB), the river that freely flows in large meanders shall be regulated over a length of 385 kilometers. This development affects the Sava floodplains, which extends over an area of 1.200 square kilometers, thus representing the largest floodplains in Europe. "EuroNatur fiercely disapproves of the planned regulation", comments Gabriel Schwaderer, EuroNatur has been promoting the preservation of the Sava floodplains for more than twenty years. "This major project is absolutely unsustainable from an ecological viewpoint and furthermore contradicts the fact that only two years ago, Croatia had proposed the SAVA floodplains with the Lonjsko-Polje Nature Park to be included in the UNESCO world heritage list."
Apart from the fact that a dynamic, natural landscape rich in species will be severely affected, this large-scale project is a completely unprofitable investment: during the first development phase alone, Croatia plans to invest 81,75m Euro for merely 200 ships and an approximate freight volume of 200.000 tons per year. Maintenance costs will amount to 4,3m Euro per year, i.e. around 22 Euro per ton of cargo. Besides, the almost exclusive cargo being transported on the Sava is crude oil, meaning it could easily be transported via rail or pipeline.
The fact that the date of the public hearing had been fixed for a day during the holidays in Croatia might have been a tactical move of the Sava-development supporters, as "during this time of the year protests were hardly to be expected", says Dr. Martin Schneider-Jacoby, EuroNatur project manager. Now, the fate of the Sava floodplains depends on international protests. Moreover, the pertinent environmental risk assessment certifies no serious negative impacts. According to Schneider-Jacoby, "The result of this assessment is no surprise, as in Croatia the planning companies may attest the environmental sustainability to themselves."To begin with, 1,7m cubic meters shall be dredged from the riverbed, and 1,3m cubic meters of gravel will be used for bank reinforcement. A stretch of 63 km will be plastered with massive blocks of stone. Beyond that, EuroNatur anticipates a much larger destruction, as soon as the development and regulation of the still natural river Sava has officially been decided. After all, this project is part of the vision of the Croatian hydraulic engineering lobby to connect the rivers Danube and Sava and the Adriatic Sea to form a huge Danuba-Sava-Adriatic Canal.
Learn more about the projects to protect the Sava River
Interview partner and photos:
EuroNatur
Konstanzer Straße 22
78315 Radolfzell
Tel.: +49 7732 - 92 72 10
Fax: +49 7732 - 92 72 22
E-Mail: info(at)euronatur.org
Internet: www.euronatur.org
Contact: Dr. Martin Schneider-Jacoby
Press contact: Katharina Grund