Today with an official meeting of all project partners, representatives of local and national administrations and local people of the small town of Dragoman a new project for biodiversity conservation and sustainable development was launched in western Bulgaria.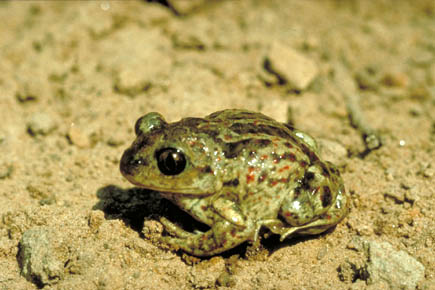 The Dragoman Marsh Karst Complex is situated on the European Green Belt, close to the Serbian border and only 40 km northwest of Bulgarias capital Sofia. The karst marsh area is the only one of its kind in Bulgaria and one of the few on the Balkan Peninsula. It includes limestone hills with depressions between them where wetlands are formed: Dragoman and Aldomirovtsi marshes, Tsraklevtsi wet meadows, some smaller wetlands and some human-made ones. The whole karst complex is characterized by a very rich biodiversity - including nesting sites of rare and threatened birds and relict localities of plant species of marsh and steppe habitats. Some of the 148 breeding bird species are Ferrugineous duck, Great bittern, Corncrake, Calandra lark and Lesser grey shrike. Furthermore Dragoman Marsh Karst Komplex is an important stop-over for thousands of migratory birds like Common crane, White stork, Glossy ibis, Ruff or Black-tailed godwit. Common spade-foot, European Pond Turtle, Nose-horned viper inhabit the area as well as many rare plant species like the endemic Urumoffs tulip or the bizarre orchid Himantoglossum caprinum.

Main EuroNatur-partners in the new project are the Deutsche Bundesstiftung Umwelt (DBU), which provides 50% of the necessary funds and two local NGOs: Balkani Wildlife Society (BWS) and the Bulgarian Biodiversity Foundationis (BBF), which will be responsible for the local project implementation. The new project will carry out important restoration and conservation activities of priority habitats and species and advance the sustainable development of the whole area (ca. 2.500 ha) for the next three years. A main part of the project will be the restoration of hydrological conditions in the Dragoman Marsh (ca. 400 ha) – the most important karst marsh in Bulgaria and one of the few in Europe. As there is lack of knowledge of wetlands and insufficient appreciation of their importance on a local and national level, the public support for the conservation of the marshes and wet meadows in the project area is crucial. The project will help support the economic activities that are compatible with (and in some cases important for) nature-conservation – ecotourism, grazing, mowing, environmental education. The new project can build on the long working experience of the involved NGO-partners in the area and on a former project in the frame of which BWS together with EuroNatur and funded by the Eeconet Action Fund was able to buy over 40 hectares of key land plots in the Dragoman Marsh.