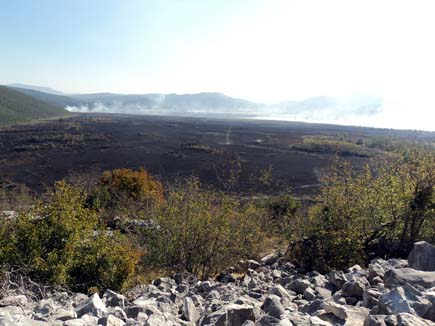 Apart from the devastating fires in the "Crane Moor" of Livanjsko Polje another precious wetland in Bosnia-Herzegovina has caught fire. In the Neretva delta, the frontier area between Bosnia-Herzegovina, the fire rages above ground and under ground of the thoroughly dried up peat bodies. With approximately 2,000 hectares burning, the whole Deransko Jezero, a dried up karst lake in the nature park and the Ramsar nature reserve Hutovo Blato, is in flames.
Human interfering in the sensitive water balance of this habitat - just like in the case of the "Crane Moor" - can be held accountable for these fires. An underground channel, which diverts a large amount of the water from the Dabarsko Polje above, reroutes it to a hydropower plant near Dubrovnik and dries up the karst lake Deransko Jezero. Fires, lit by hunters to uncover areas in the nature park Hutovo Blato for illegal bird hunting, unleashed the current blaze in this region. Due to the dried up peat bodies of the Deransko Jezero, the fire went out of control.

The large-scale fires in the eastern Adriatic coast wetlands involve a major loss of the biodiversity in Europe and have serious consequences for the climate, too. After all, the fire does not just destroy large parts of unique biotopes but releases substantial amounts of carbon dioxide, too. EuroNatur has a strong commitment to point out to the manifold negative effects of the use of hydropower in the Balkans and to help prevent further destructive interference in the sensitive water balance of rivers and karst systems.

Link youtube video about the current fires in the Neretva delta.


Travel guide into the world of Karstpolje

If you want to discover the beauty of Karstpolje on the Balkans, you find great travel tips in the newly published EuroNatur travel guide "Adriatic Eastern Coast" (German).