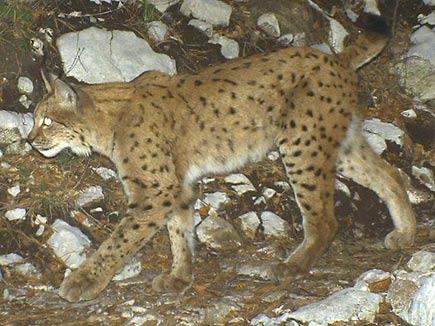 Balkan Lynx in need of strict protection
Press release, 20 November 2015

Radolfzell/Germany. Is there a reason for joy, when a species appears on the Red List? In this case, yes. The International Union for Conservation of Nature (IUCN) acknowledged the Balkan Lynx as a distinct subspecies of the Eurasian Lynx and subsequently classified it as 'critically endangered'. "Now finally it's official: the Balkan Lynx is among the rarest and most highly endangered cats on Earth and has to be strictly protected", says Gabriel Schwaderer, CEO of nature conservation foundation EuroNatur. For more than ten years now, EuroNatur has been intensively striving to save the last Balkan Lynxes and their habitats in cooperation with partner organisations.

"Unlike the Iberian Lynx in Spain, where about EUR 90 million have been invested over the past 15 years to save the remaining population, the Balkan Lynx hardly received any attention at the international level. Hopefully, this is now going to change", says EuroNatur project manager Thies Geertz.

For a long time, the Balkan Lynx has been like a phantom. According to recent population estimates there are no more than about 35 lynxes left. Habitat destruction, hunting and prey depletion have driven the cat to the brink of extinction. Successful reproduction of the Balkan Lynx has been documented in two areas only: in Mavrovo National Park, Macedonia, and in the Munella Mountains in northern Albania. However, both areas experience massive exploitation pressure. The last forests of Munella are being cut down and burned at breathtaking speed, while Mavrovo National Park is severely threatened by more than 20 hydropower dam projects despite its high conservation status. In addition, there are huge knowledge gaps concerning the present distribution of the Balkan Lynx, specifically in Montenegro and Kosovo.

"Time is running out for the Balkan Lynx. In order to effectively protect this felid, we have to lastingly preserve its last habitats. We urgently need a coherent network of protected areas on the Balkans that are managed according to the needs of the Balkan Lynx and its prey species. Otherwise the end of the Balkan Lynx is looming", says Gabriel Schwaderer.


Background information:
Read more about the EuroNatur project to protect the Balkan Lynx

For further information, please contact: EuroNatur, Konstanzer Straße 22, 78315 Radolfzell, Germany,phone: +49/7732-9272-10, fax: +49/7732 - 92 72 22, EMail: info@euronatur.org, Internet: www.euronatur.org, press contact: Katharina Grund; contact person: Thies Geertz