++ EuroNatur Award 2018 goes to Roberto Epple ++ Europe-wide launch of online campaign #ProtectWater on the 9th of October ++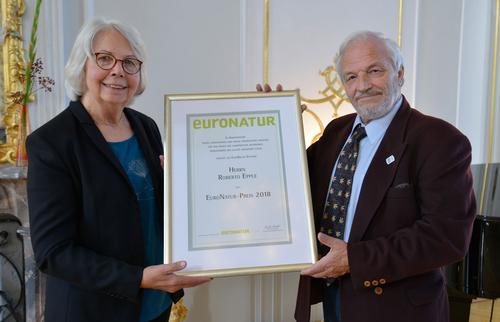 Radolfzell, Mainau Island. Today, Roberto Epple, president of the European Rivers Network (ERN), received the EuroNatur Award 2018 on Mainau Island (Lake Constance) for his outstanding personal dedication to protecting the rivers of Europe. "The passion that Roberto Epple brings into his efforts for Central European river landscapes is exemplary for our conservation work and further encourages us to never give up, even if the opponent seems too strong. With his unswerving love for the rivers he is an inspiring example for us", EuroNatur president Christel Schroeder states a reason for the choice of this year's award winner.
Without the courageous efforts by Roberto Epple, many river landscapes in Central Europe would look different today. And the ERN president not only averted river regulation and dam construction; through creative activities the Swiss river conservationist time and again manages to sensitize and mobilise people for river protection. "It has always been my strong desire not only to protect rivers from further destruction, but also to inspire European citizens for the blue arteries. I want to give new vitality to the age-old interaction of man and river", say this year's EuroNatur laureate.
At the same time, Europe's rivers face new hardship: The EU's Water Framework Directive (WFD), one of the most dedicated environmental protection plans in Europe, might be weakened. In order not to let this happen, more than 80 nature conservation organisations, including EuroNatur, launched the online initiative #ProtectWater yesterday, 9th of October. The ERN is among the leading NGOs in this campaign, which calls on all EU citizens to participate in a public consultation until the 4th of March, 2019, to speak up for healthy waters, and thus to counter attempts to water down the WFD.
Background information:
EuroNatur Award: Former prize-winners include Jonathan Franzen, Dr. Luc Hoffmann, Michail Gorbatschow, Nelson Mandela, Dr. Mario F. Broggi and Gudrun Steinacker. The EuroNatur Award carries no monetary reward, and is awarded for outstanding contributions to nature conservation. The 2018 EuroNatur Award will be presented to Roberto Epple on Wednesday 10th October 2018 at 17.00 on the island of Mainau on Lake Constance.
Roberto Epple: Danube, Elbe, Loire, Ebro and Rhine are just some of the rivers which have featured in Roberto Epple's life, rivers for which this hydrobiologist, born in St. Gallen in 1945, has fought numerous campaigns to preserve them in their natural state. His first experiences in the area of communication and the environment were gained in international chemical and textile companies. The passionate defence by many people of the Danube floodplain forests near Hainburg in the 1980's galvanised this native of Switzerland. Since 1993 Epple has been president of the European Rivers Network, a network of European environmental and conservation organisations which campaign for the preservation of European rivers.
Initiative #ProtectWater: With the Water Framework Directive, which has been in force since December 2000, the European Union has set uniform environmental objectives for the protection of groundwater and surface waters in all EU member states. According to the WFD, all European waters should be in "good status" by 2027 at the latest, i.e. above all in an ecologically valuable state. However, as this goal will hardly be achievable, Member States threaten to weaken the directive. A broad alliance of European nature conservation organisations is fighting these plans. Read more here.
Campaign for the protection of Balkan Rivers: The campaign "Save the Blue Heart of Europe" aims to protect the most valuable rivers in the Balkans from a dam tsunami of about 2,800 planned projects. The campaign is coordinated by the NGOs Riverwatch and EuroNatur and carried out together with partner organisations in the Balkan countries.
Further information and pictures in print quality can be found in the download area at: www.euronatur.org/ueber-euronatur/presse/euronatur-preis-2018/

Current photos of the award ceremony will also be available on Wednesday, 10 October from around 8 p.m.

For more information contact:
Anja Arning, E-Mail: anja.arning(at)euronatur.org, Tel.: +49 (0)7732 - 92 72 13