After a fund-raising campaign, solar panels are being fitted on the roofs of public buildings in the village of Kutë on the Vjosa river. They have been installed as an explicit alternative to hydro power in the supply of electricity.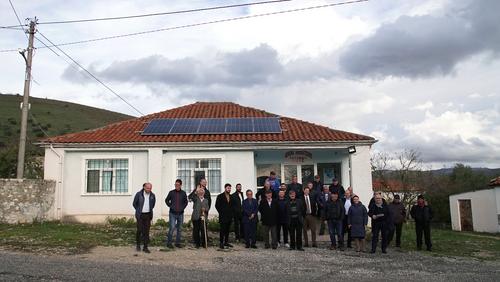 The project "Solar in Kutë" was officially launched on 3rd December. Five public buildings in the village on the Vjosa have been supplied with solar electric power, including the school and the health centre of Kutë. The project is a successful initiative that we set in motion last year with our partner organisations EcoAlbania and Riverwatch. The initiative involved a strong fund-raising campaign, including crowd funding, to help finance energy generation using solar panels.
It was not by chance that Kutë was chosen as Albania's first solar village as it was one of the communities in the Vjosa Valley which would have been massively affected by the Poçem dam. "The idea of supplying Kutë with solar energy was designed to convey the message that local communities can find less harmful alternatives for the production of energy," said Olsi Nika, Executive Director of EcoAlbania. "By placing solar panels on the roofs, we are setting a clear signal for future developments: Benefits will range from the assurance that not everything will be flooded by the hydropower dam to the provision of an economically viable and really environmentally friendly renewable source of energy in the village," continued Nika.