Winners 2013
Here you can see the winner photos of Photography Competition 2013. We thank all photographers for participating. Please try again! We would be very happy to receive many first-class photos again next year.

Click on the photo to enlarge.
---
Seaside beauty
1st prize: Edwig Vanhassel
What a scoop to capture a sanderling! These enchanting, tiny waders whizz back and forth, as if they had been wound up, running just where the sea meets the sand. It's here in the shallow water that they can catch shrimps and other delicacies...
---
Autumn mists
2nd prize: Erika Poltronieri
Autumn mists are cloaking the woods in Italy - but there! On looking up one catches a glimpse of the first sun-rays to penetrate the thick grey mist, bathing the autumn leaves in a magical glow.


---
Ant facing water
3rd prize: Giuseppe Bonali
Now what? How to get to the other side... Most ants cannot swim, it's true – but if the surface tension of the water is right they can run across it like a water-skeeter.


---
Moor Frog showing its colours
4th prize: Markus Gebel
No, this male moor frog is not sitting in a Jacuzzi. What you see here is a mountain of frog spawn. Is he perhaps the father of this plentiful brood?
---
Brilliant Kingfisher
5th prize: Bernd Lamm
Icy weather - Three long days observing nature and then this "capture" of the jewel-like brilliance of a kingfisher at its work. The photographer, Bernd Lamm, forgot how cold his feet were getting in delight at this shot, taken on the banks of a stream on Merfelder Moor in Münster country.
---
Warming up
6th prize: Daniela Beyer
It's July in the Erz Mountains and the dew is sparkling on the long grasses of extensively farmed grazing land. The fly will have to wait a moment for the sun to dry its wings before it can fly off....


---
Lolling puppy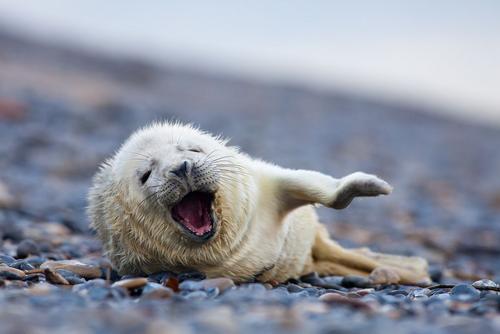 7th prize: Petr ?underlík
With its mother out fishing, this young grey seal is happily lolling around on the beach on Helgoland. Those who brave the winter winds on this island are rewarded with the sight of any number of these appealing bundles of white fur.
---
Ruffs in a flurry
8th prize: Mateusz Piesiak
A moment before, just peacefully floating on the water of a small pond near Breslau in Poland - now, at the approach of a marsh harrier, the ruffs are off in a flurry. Up and away!
---
Hares and herbs
9th prize: Rüdiger Kaminski
Mmm – delicious! The best thing on the menu! Hares love wild herbs and grasses. However, intensive farming has made wild fields and the wild strips that used to border arable land a rarity. Lean times for Master Hare!
---
Bold mountaineer
10th prize: Cornelia Harodt
Dizzy heights are no problem for Alpine ibex. Agile and daring they can scale the steepest mountains – as here seen near the Matterhorn.


---
Turk's cap lily
11th price: Hans-Martin Braun
What a feast for the eyes these lilies are, their curves a reminder of exotic turbans of the East! Image of summertime in many parts of Europe, this lily is indigenous and in bloom from June to August.
---
Wild waters
12th price: Arnold Schaffer
Fire, ice and water formed the wild beauty of Hohe Tauern in Austria. Innumerable streams and rivers wind their way through this unique mountain range and come tumbling from the rocks in spectacular waterfalls.
---