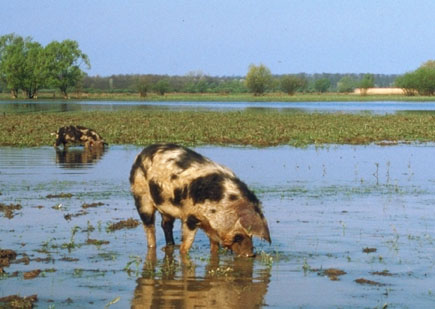 Croatian Conservationist awarded with EuroNatur Prize 2011
Press release from 12. October 2011

Radolfzell / Mainau, Lake Constance/ Germany. This late afternoon, the Croatian conservationist Goran Gugic will receive the EuroNatur Award 2011 on the island of Mainau in Lake Constance. Last year, Dr. Ernst Paul Dörfer had been awarded for his commitment to protect the river Elbe. With the 2011 award, EuroNatur has linked Europe by including the Sava floodplains in Croatia, the largest alluvial wetlands in Europe covering more than 1.200 square kilometres. "Goran Gugic has committed himself to the protection of the Sava floodplains, hence the preservation of a natural and cultural treasure for both Croatia and the whole of Europe", says Christel Schroeder, vice president of the Europe-wide active Nature Heritage Fund EuroNatur, based in Radolfzell.

Goran Gugic is the classical European citizen. Born into a Croatian family in Germany, he moved to former Yugoslavia in 1992, despite of the war, where he worked for a EuroNatur project in the Sava alluvial wetlands southeast of Zagreb. Since 1998, he is the director of the Nature Park Lonjsko Polje, the core of this unique cultural and natural landscape, and based on his slogan "living with water" he has been managing the park very successfully. He has developed a system of sustainable management that does not harm the environment, but makes sensible use of nature instead. "From increasing flood disasters in Central Europe, we unfortunately had to learn that both river regulation and floodplain destruction entail catastrophic consequences. That's why Goran Gugic's support for the protection of one of the last natural river systems in Europe, must be honoured all the more", says Christel Schroeder.

Once or twice every year, the inflowing water transforms the Lonjsko Polje into a huge lake. Here, an unbroken tradition of pasturing has been preserved since medieval times. The pasture land serves as retention area for the floods of the river Sava, the largest influent of the Danube. These alluvial wetlands host an exceptional richness in species.

But Goran Gugic's commitment goes far beyond the Nature Park Lonjsko Polje; in his job, he always keeps an eye on nature conservation in the rest of Croatia and also abroad. As early as 1993, he gave the crucial impetus to take up the idea of a trans-border biosphere reserve along the rivers Mur-Drava-Danube across the borders of five countries.


Background information:
Former winners of the EuroNatur Award are, among others, Dr. Ernst Paul Dörfler, Prof. Dr. Klaus Töpfer, Prince Charles, Mikhail Gorbachev, Nelson Mandela and Dr. Hans Bibelriether. The EuroNatur Award is not endowed; it honours outstanding achievements in nature conservation.
Here you can find further information about the EuroNatur prize winner 2011:

Living with water (EuroNatur press release 27.9.2011)
EU-Accession of Croatia: Valuable Cultural Landscapes as "endowment"
(EuroNatur press release 27.6.2011)

EuroNatur
Konstanzer Straße 22
78315 Radolfzell
Phone: + 49 (0)7732 - 92 72 10
Mobile: + 49 (0)171-9366698
Fax: + 49 (0)7732 - 92 72 22
E-Mail: pressestelle@euronatur.org
Press Contact: Katharina Grund