++ Forest conservationists receive the EuroNatur Award 2022 ++ Europe's last primary forests under massive pressure ++ War against Ukraine hampers conservation work on the ground ++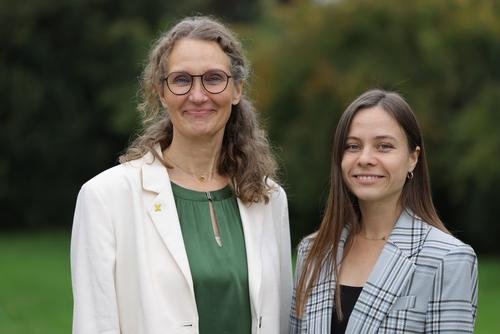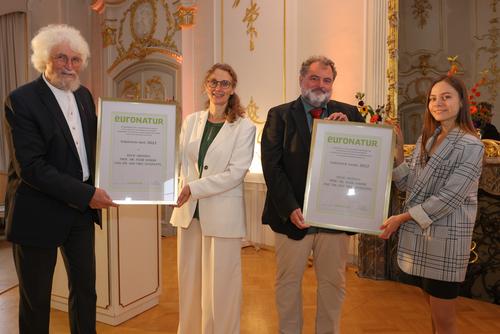 Radolfzell, Mainau Island. German climate and forest conservationist Antje Grothus and Adelina Zakharchenko of Free Svydovets - a nature conservation organisation from Ukraine which campaigns to protect the virgin forests of the Carpathians - have been jointly presented with the EuroNatur Award today, 13 October 2022. They received the award for "their courage and tenacity, which are exemplary, particularly in times of war and increased attempts to intimidate civil society actors - unfortunately, here in Germany too," said EuroNatur President, Prof. Dr. Thomas Potthast. The award was also presented in his absence to Ukrainian scientist and virgin forest conservationist Prof. Dr. Fedir Hamor.
In his laudation, EuroNatur Presidium member Prof. Dr. Hannes Knapp spoke of the great uncertainties of our times. In addition to the destruction of nature on our continent, war has also been raging in the midst of Europe for seven months. "With the 2022 award, we want to send out a signal of our solidarity with Ukraine. Today, Adelina Zakharchenko is accepting the EuroNatur Award on behalf of Free Svydovets. It is also a symbol for Free Ukraine." The second award winner from Ukraine, Prof. Dr. Fedir Hamor, who was unfortunately unable to undertake the journey to Mainau Island, received the EuroNatur Award for his efforts to protect the virgin and natural forests of his country. "Hamor dedicates his entire life to protecting the ancient forests of his home region. EuroNatur is honouring his life's work for the protection of European primary forests with the EuroNatur Award 2022," said Hannes Knapp. The third award winner, Antje Grothus, receives the award for her tireless efforts to protect the Hambach Forest, which has been destined to be sacrificed for coal mining on multiple occasions. Her campaign, and that of her many allies, is an inspiring movement for the protection of natural and cultural values, and for a future worth living.
"Trees cannot rebel, but people can." This quote from theologian and civil rights activist Friedrich Schorlemmer was placed purposefully by Antje Grothus both at the beginning and at the end of her acceptance speech. With this year's award, EuroNatur has honoured people from Ukraine and Germany who are doing just that - rebelling.

Background information:
EuroNatur Award: Previous award winners include Romanian primary forest conservationist Gabriel Paun, the newly proclaimed King of the United Kingdom Charles III, and author Jonathan Franzen. The EuroNatur Award is a non-monetary award. It is given in recognition of outstanding achievements in nature conservation that unite people and nature. The EuroNatur Award 2022 was presented at 17:00 on Thursday, 13 October 2022 on Mainau Island, Lake Constance.
Images: The attached images may be used in conjunction with this press release free of charge and on a one-off basis, quoting the respective copyright owners. These are available on request in print quality. Further information and print quality images can be found in our downloads section at: https://data.euronatur.org/index.php/s/Afe7YR45YZ7w7Le
More images from the award ceremony will be available there on Friday, 14 October, from around 10:00.
Enquiries: Christian Stielow, Mail: christian.stielow(at)euronatur.org, Tel.: +49 (0)7732 – 92 72 15
Press Subscription Service
Select on which of your areas of interest you would like to receive our press releases.
RSS feeds
You can subscribe to our RSS feeds to receive all the news on the topics of your choice.