Drought and inadequate water management have caused the Ulcinj Salina in Montenegro to all but dry up. Conservationists can at least see a positive side to the drought, however.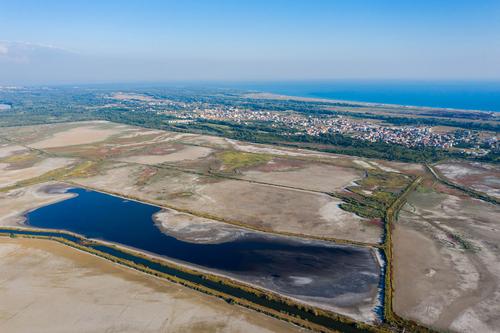 The Ulcinj Salina, one of the most important wetlands on the Adriatic, has never been as dry as it is right now. Many of the salina's basins, which normally hold water even at the height of summer, have dried up. In addition to the severe drought which has affected large parts of Europe this summer, inadequate management of the salina is also contributing to the dramatic situation there. The climate crisis is therefore yet another argument for finally putting water management at the salina in capable hands - thereby ensuring the bird paradise is also preserved in the future.
In spite of all this, the situation does have an upside: "Due to the drought and lack of birds in the salina, habitat improvement work can begin earlier than planned," said Dr. Stefan Ferger, Migratory Bird Project Manager at EuroNatur. The vegetation on the embankments and in the crystallisation basins needs to be removed, leaking dams have to be repaired and planks renewed. Permits are currently being fast-tracked and we hope to be able to complete the work by the end of the autumn," continued Dr. Ferger.
A hydrological study is also being prepared. The aim of this is to ensure that the nature park's future administration has all the information it needs to manage water at the salt pans appropriately. Extremely hot summers are very likely to recur as a result of the climate crisis - but with better water management, the most severe impacts on the flora and fauna of the salina can be mitigated.