++ EuroNatur Award 2022 goes to Antje Grothus, Fedir Hamor and the Free Svydovets organisation ++ Europe's last virgin forests are under enormous pressure from overexploitation ++ War in Ukraine hampers the work of forest conservationists in the Carpathians ++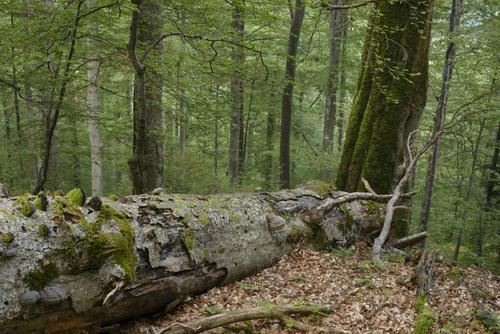 Radolfzell. German climate and forest conservationist Antje Grothus, Ukrainian scientist and primeval forest conservationist Prof. Dr. Fedir Hamor, and Ukrainian nature conservation organisation Free Svydovets will jointly receive the EuroNatur Award on 13 October 2022.
Antje Grothus has been campaigning for the end of lignite coal mining in Germany for decades. She advocates for the earliest possible phase-out of coal and, in particular, has campaigned for the preservation of the Hambach Forest near to the Hambach surface lignite coal mine - even in the face of threats to her person. The energy issue has been further exacerbated by Russia's war of aggression against Ukraine, and it is becoming clear that a genuine energy transition in Germany and Europe is a matter of the utmost urgency, not just on environmental grounds, but also for human rights and security policy reasons. However, our continent's last natural forests - in Germany as well as in the Ukrainian part of the Carpathians - must not be destroyed for energy production. Forest scientist Prof. Dr. Fedir Hamor and Ukrainian organisation Free Svydovets have been campaigning for many years to protect the Carpathian virgin forests in their country; at present, the challenges have become even more acute due to the war in their homeland.
"The courage and tenacity of all this year's award winners is an example to us all, particularly in times of war and increasing attempts to intimidate civil society actors - unfortunately, here in Germany too," said EuroNatur President Thomas Potthast, explaining the selection for this year's EuroNatur Award. In receiving the award, the forest conservationists from Germany and Ukraine join the ranks of figures such as the "Brave women of Kruščica" and Romanian primeval forest conservationist Gabriel Paun. They too have received the EuroNatur Award for their exemplary commitment to the protection of Europe's natural heritage.

Background information:
EuroNatur Award: In addition to those mentioned in the text, Jonathan Franzen, Gudrun Steinacker and the municipality of Mals in South Tyrol are among those who have also previously been honoured. The EuroNatur Award is a non-monetary award. It is given in recognition of outstanding achievements in nature conservation. The EuroNatur Award 2022 will be presented to Antje Grothus, Prof. Dr. Fedir Hamor and the Free Svydovets organisation on Thursday, 13 October 2022 at 17:00 on Mainau Island, Lake Constance.
EuroNatur campaign to save the Carpathian virgin forests: The "SaveParadiseForests" campaign is committed to the protection of the virgin and natural forests of the Carpathians, particularly in Romania. It is jointly coordinated and run by NGOs EuroNatur (Germany) and Agent Green (Romania).
Enquiries: Christian Stielow, christian.stielow(at)euronatur.org, Tel.: +49 (0)7732 – 92 72 15